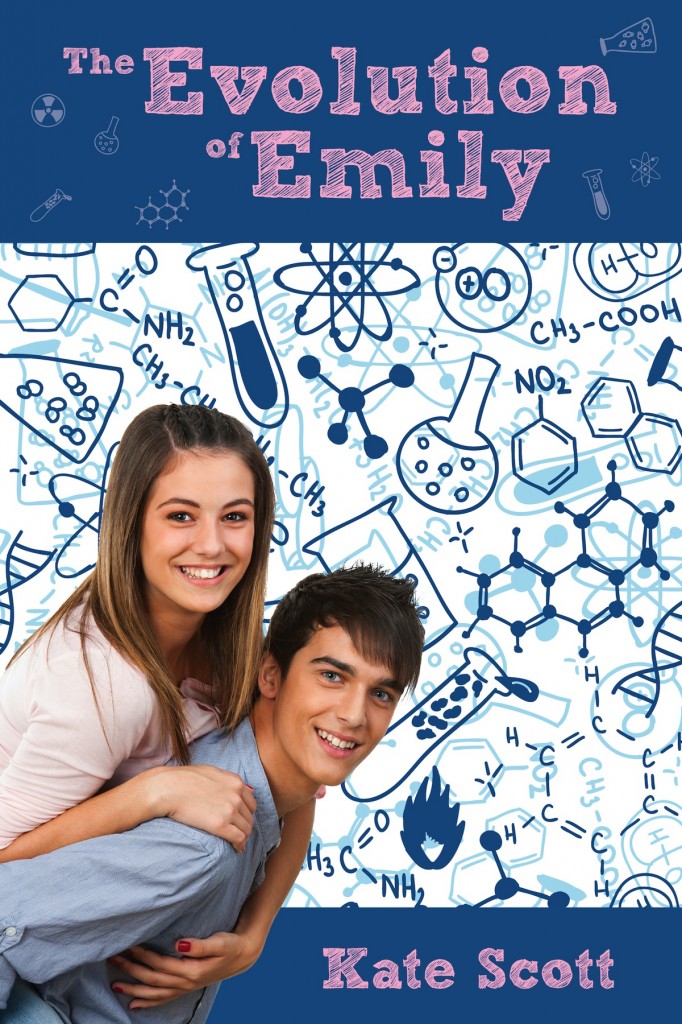 BOOK & AUTHOR INFO:
The Evolution of Emily by Kate Scott
Publication date:
November 18th 2014
Genres: Contemporary, Romance,
 Young Adult
Synopsis
:
Emily Charles knows how to run away. Away from her overprotective, agoraphobic mother. Away from her biology-obsessed, autistic sister. Away from her quiet sheltered claustrophobic homeschooled life. When Emily's escape plan involves starting her junior year at Kennedy High School, she realizes she's no longer running away. Now she's running towards. Towards her quiet thoughtful cross-country teammate, August. Towards her zany enthusiastic lab partner, Miles. Towards friendship, love, independence, and life.
Thanks to her sister's special interest in biology, Emily knows all about the birds and the bees. Boys are a lot more confusing!
Readers who enjoyed Counting to D will enjoy Scott's second title, also set at Kennedy High School.
AUTHOR BIO:
Kate Scott lives in the suburbs outside Portland, Oregon with her husband Warren. Kate was diagnosed with dyslexia as a young child but somehow managed to fall in love with stories anyway. COUNTING TO D is her first novel. When Kate isn't writing, she enjoys listening to audiobooks, camping, and spending time with her friends and family. Kate also spends a lot of time doing math and sciency things and is a licensed professional engineer.
Author links:
Cheers,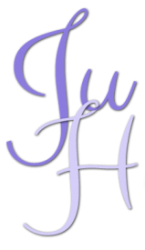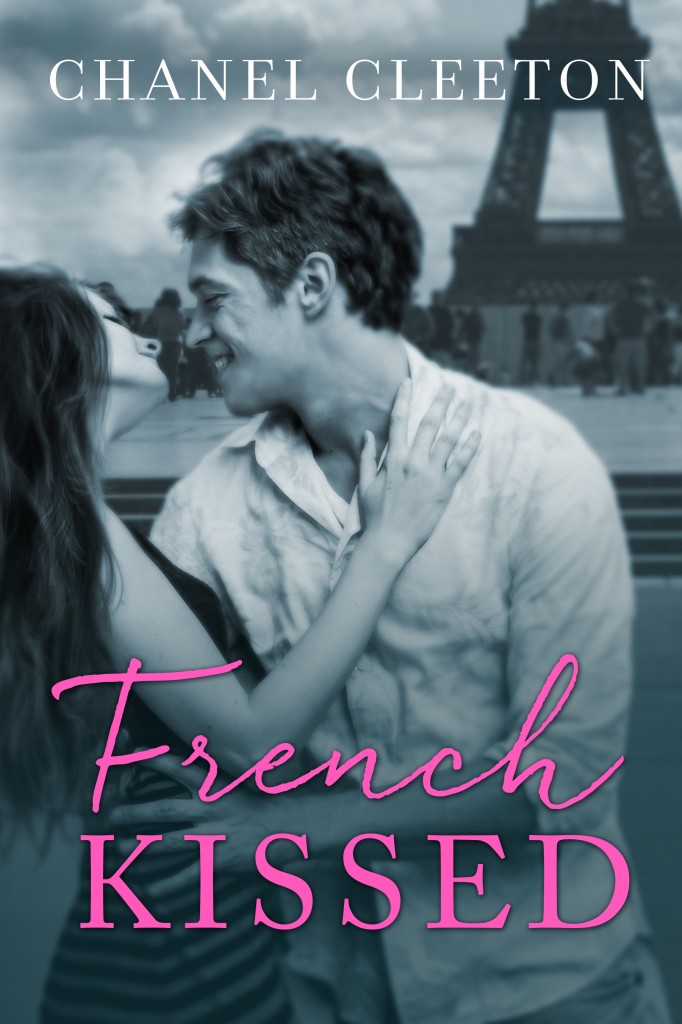 BOOK INFORMATION:
French Kissed by Chanel Cleeton
Release Date: December 1, 2014
New Adult Contemporary Romance
International School Book 3
SYNOPSIS:
On the surface Fleur Marceaux has it all—if only the façade matched reality. With one year left at the International School in London, Fleur's struggling to graduate, her love life is a mess, and she can't stop thinking about Max, her ex-boyfriend's best friend. But all of that pales compared to the blackmailer determined to destroy her.
There's a social hierarchy at the International School, and Max Tucker is outside the velvet ropes. After watching Fleur break his friend's heart, Max knows to stay away from trouble—despite the crush he's had on her since freshman year. But when they're partnered on a project, Max learns there's more to Fleur than meets the eye, and she just might be worth the wild ride.
The more time they spend together, the further Max falls. And when a kiss awakens a passion Fleur never imagined, she's unable to resist Max, who she thought was wrong for her, but might be the only thing that's right.
But will he stand by her when her secrets are revealed?
Don't miss the final book in the International School series. This New Adult romance is recommended for readers 17 and up.
Add on Goodreads: https://www.goodreads.com/book/show/22858376-french-kissed
Want to see where it all began?
I SEE LONDON (International School Book 1)
Amazon http://amzn.to/MpM27V
iBooks http://bit.ly/1ewcogY
Goodreads https://www.goodreads.com/book/show/18778603-i-see-london
LONDON FALLING (International School Book 2)
Amazon http://amzn.to/1n6rvo2
iBooks http://bit.ly/1ziLXaq
Goodreads https://www.goodreads.com/book/show/20490480-london-falling
AUTHOR BIO:
Originally a Florida girl, CHANEL CLEETON moved to London where she received a bachelor's degree from Richmond, The American International University in London and a master's degree from the London School of Economics and Political Science. Chanel fell in love with London and planned to stay there forever, until fate intervened on a Caribbean cruise, and an American fighter pilot with smooth dance moves swept her off her feet. Now, a happily ever after later, Chanel is living her next adventure in South Korea.
Law school made Chanel realize she'd rather spend her days writing sexy stories than in a courtroom, and she hasn't looked back since. An avid reader and hopeless romantic, she's happiest curled up with a book. She has a weakness for handbags, her three pups, and her fighter pilot husband. Chanel writes New Adult contemporary romances and thrillers.
She is the author of I SEE LONDON and LONDON FALLING, published by Harlequin HQN, the upcoming FRENCH KISSED, and FLIRTING WITH SCANDAL, the first book in a new three-book NA series to be released by Penguin/Berkley in 2015.
Website | Facebook | Twitter | Goodreads | Pinterest 
Cheers,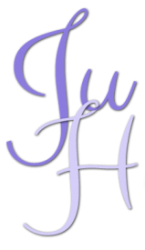 Hi Friends!
This week Summary Sunday will be more like an Update Sunday. I have tons of things going on and I just want to make sure you know about it all.
1) Last week was the cover reveal of Midnight Kiss: Four New Adult Paranormal Romances.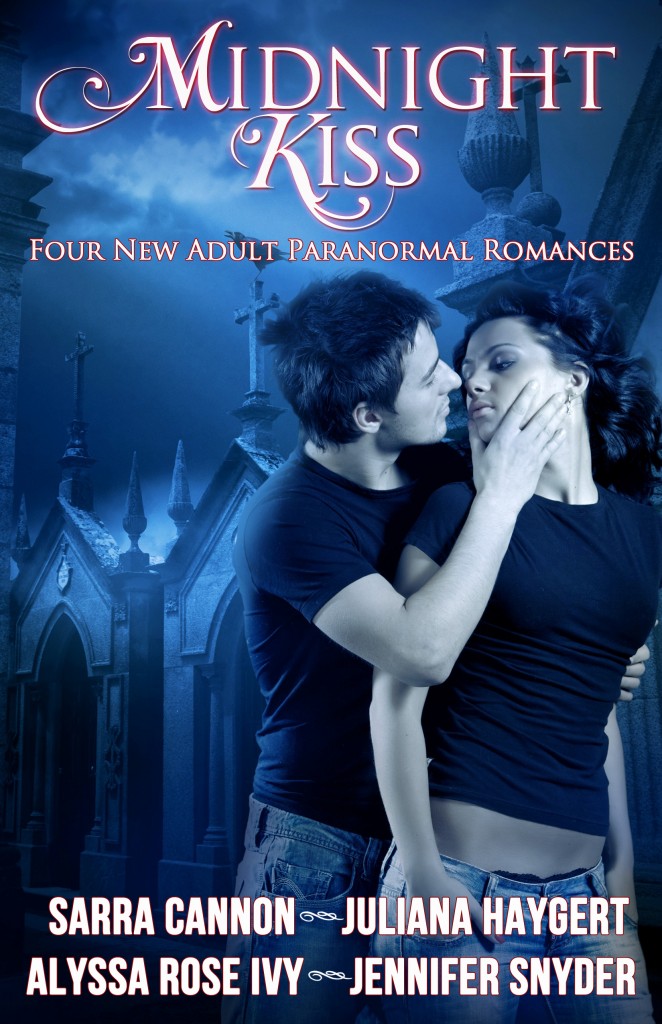 This Halloween, prepare to be haunted by a kiss…
Midnight Kiss is a limited edition collection of four BRAND NEW, NEVER RELEASED novellas, all set in New Orleans on Halloween night.
AFTER MIDNIGHT by Sarra Cannon
THE MIDNIGHT TEST by Juliana Haygert
SEDUCTION'S KISS by Alyssa Rose Ivy
KISS OF AWAKENING by Jennifer Snyder
You can add it on Goodreads, and you can pre-order now from iBooks or Kobo or Google Play!
We posted two teasers about it so far (more to come):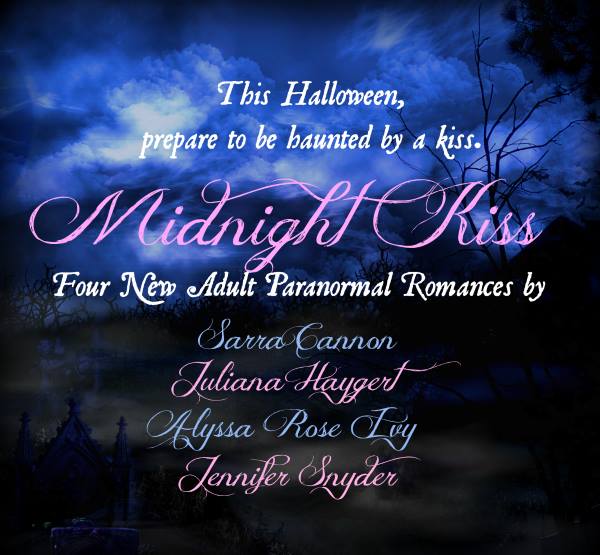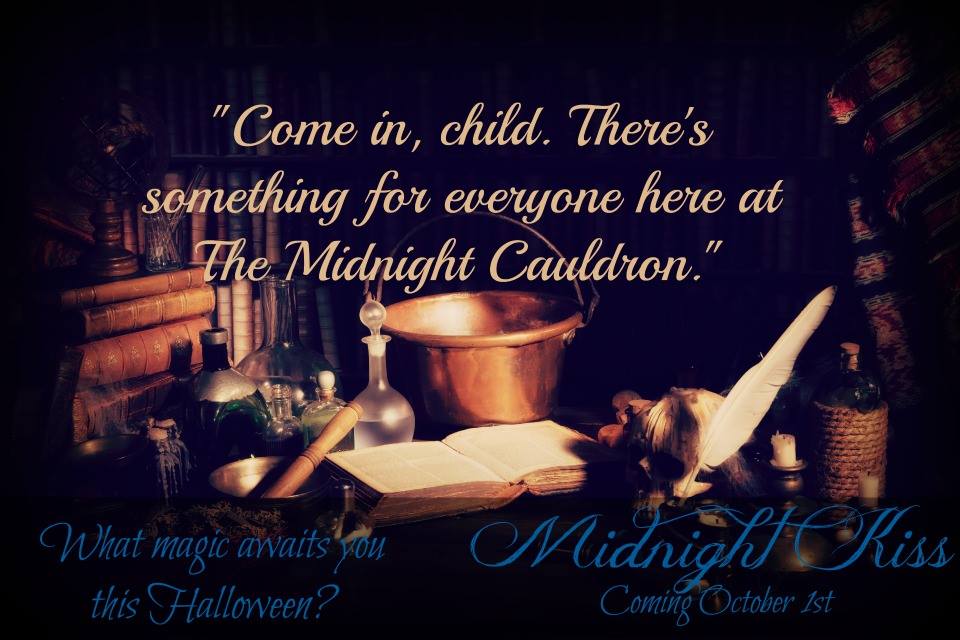 2) Alyssa, Sarra, Jennifer and I will host a Facebook party called Midnight Kiss Pararnomal Party to celebrate the release of Midnight Kiss. It'll be held on Oct 1st from 8pm to 10pm EST. There will be lots of prizes, so if you can, stop by!
Here's the link: https://www.facebook.com/events/822404621125600/
3) I released a free short-story that ties up with my novella featured on Midnight Kiss.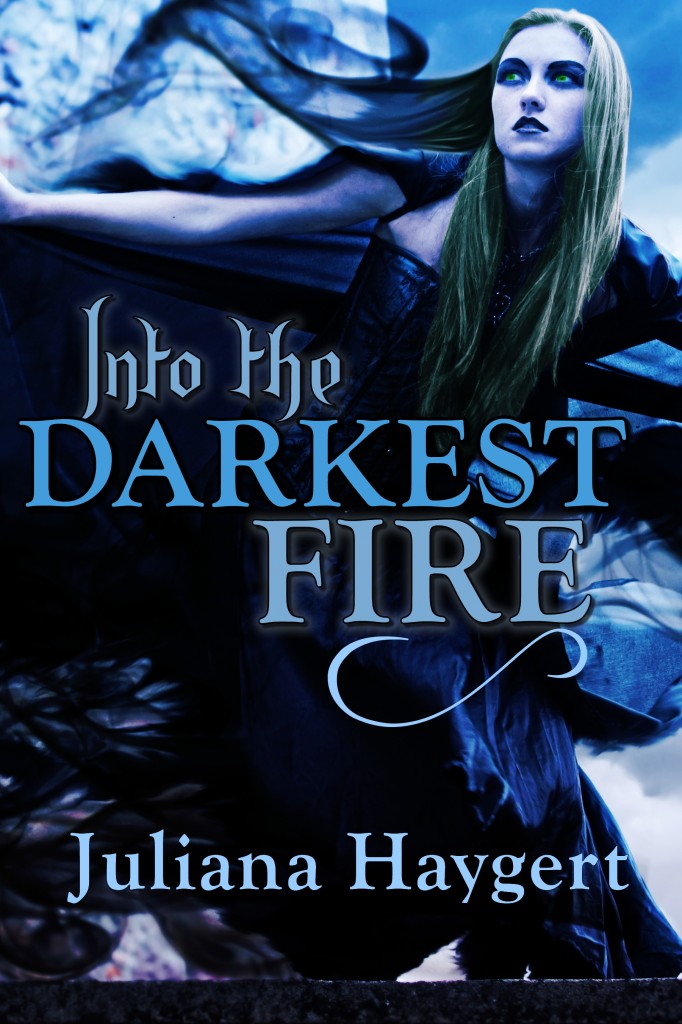 Into the Darkest Fire
Genre: YA/NA Fantasy
Word Count: 4,000
In early 1500s, seventeen year-old Arianna founded the White Sisterhood, a powerful coven for the good witches hiding from the Brotherhood. But the Brotherhood doesn't want any witches alive, not even good ones. Since she's the most powerful of all, Arianna is high on their list.
While the witchhunts burn through Europe, Arianna works with a king, helping him to make his kingdom peaceful and strong again. In return, he promised to protect her against the Brotherhood.
Into the Darkest Fire is a FREE short-story about the Arianna's death.
Set 500 years after Into the Darkest Fire, The Midnight Test is a novella featured in the collectionMidnight Kiss: Four New Adult Paranormal Romances, releasing October 1st.
Grab your FREE copy now on Amazon | B&N | Kobo | iBooks! And don't forget to add it on Goodreads!
4) I posted a new pic teaser for Captured Love here on the blog (and on goodreads too).
Here it is: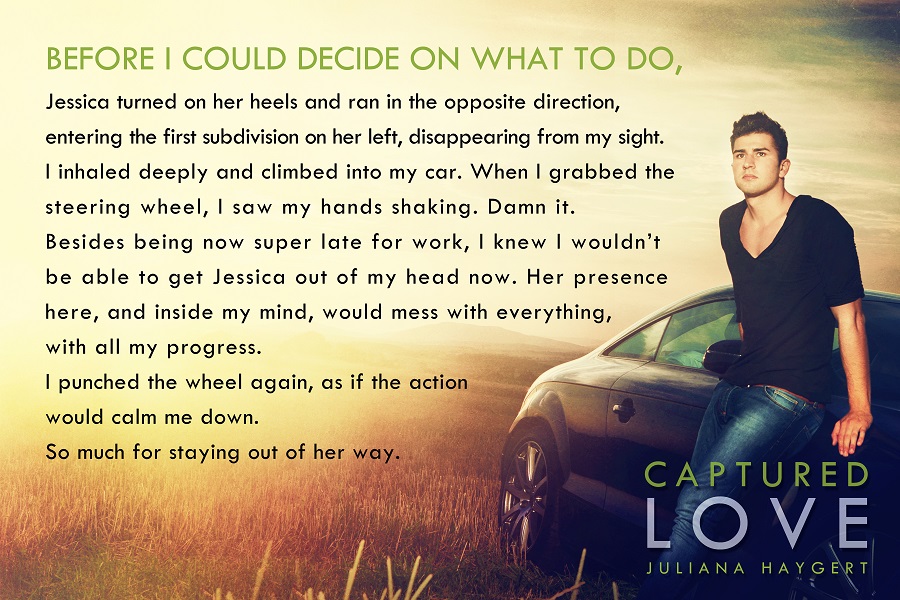 5) The giveaway on goodreads is still going strong. There are 2 signed paperback of Captured Love for grabs.
Enter here: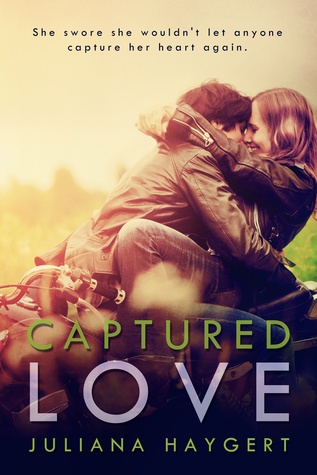 I think that's it. For now.
Cheers,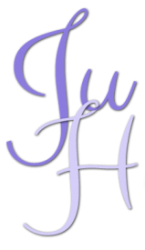 Hi! I'm Juliana Haygert,

Author of New Adult fiction.

Welcome to my blog!

To learn more about me, click here.

Subscribe to my Newsletter

Juliana

has read 1 book toward her goal of 60 books.