Update!
Hello friends!
Long time, no see! But hey, I haven't been THAT quiet anymore, have I?
Though, I'm still failing on twitter and a little bit on facebook, I've been working A LOT.
My toddler finally started daycare two weeks ago. At first, I used my "free time" to catch up on many chores I had dangling over my head, but now that [almost] everything is done and organized, I've been writing many, many words again. And it feels so great!
On Wednesday, for example, I wrote 7k words! I hadn't done that in … I don't know, 3 years? That was a long time coming …
Anyway, let me tell about a few things going on around here:
Breaking Through is almost, almost done! It releases on Aug 22nd and the pre-order links are up (check this page for the links). There will be a book blitz with giveaways and such during the week of Aug22-26, and if you have a blog, you can sign up for it by following this link here.
A few weeks ago, I announced I'll be writing Breaking Down, the fourth book in The Breaking Series soon, and there will be a cover reveal for it on Sept 12th. Again, if you have a blog and would like to share the cover, please sign-up for it here.
I have two giveaways going on right now, one on goodreads, and another throughout all social media. Check them both bellow: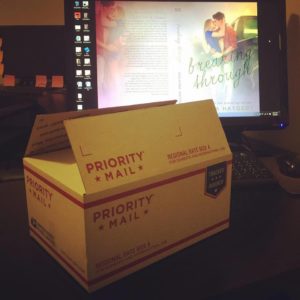 See this box? Let's called it a Juliana's Mystery Box.
What is inside? Well, like the name says, it's a mystery, but I can tell you it's bookish ;)
And I'm gonna give it away on Aug 1st … How can you try to win it? Simple. Sign up for my newsletter! http://eepurl.com/CKsmX
If you're already a subscriber, awesome! You're already on the run. If you aren't, then sign up now!
On Aug 1st I'll randomly choose a winner!
Good luck!
And that's it for now! Talk to you soon!
Cheers,