Writing 300 Words Everyday – Part II
Hello friends!
Remember a month ago when I posted about being in huge writing funk, then I found a quote by Stephen King and immediately went on to follow it? That first post was about my progress during the month of Nov while following that advice.
This post right here is to tell you about my progress during the month of December.
I've wrote EVERY DAY during the month of December. I didn't even miss on my birthday, Christmas Eve, Christmas, and New Year's Eve. And, because to me writing is addicting, I usually wrote more (and sometimes way more) than just my daily goal of 300 words.
Here's how the month went: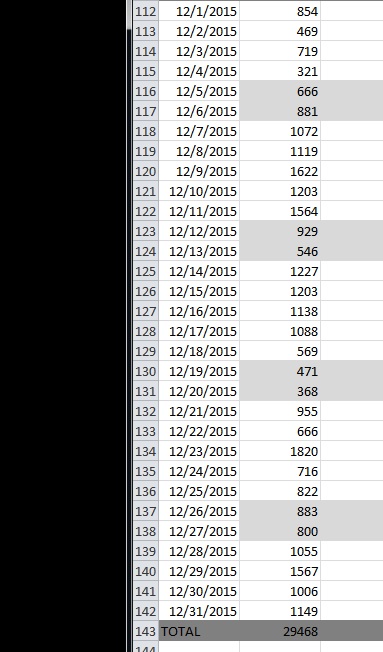 As you can see, it went well, even better than November. And I stuck with it. I'm proud of myself that I stuck with my plan, with the quote. And I'll continue to do so in January, February, March … And forever, I hope.
(Though, once my baby girl starts halfday daycare, my daily word count goal will increase!)
If you are in a writing funk like I was, let this post (and the previous one) serve as an inspiration for you. 300 words is not much that it'll disrupt your busy day, but enough to make a difference after a couple of minutes months.
I can do it, you can do it!
Cheers,