What's Up Wednesday
The lovelies Jaime Morrow and Erin Funk came up with the WHAT'S UP WEDNESDAY meme. Here's Jaime's explanation about it: "It's similar in some respects to the Currently… post, but it's been whittled down to only four headings to make it quicker and more manageable on a weekly basis. You're invited to join us if you're looking for something to blog about, a way to let your blog friends know what's been going on with you."
WHAT I'M READING
I finished The Plot Whisperer by Martha Alderson. I also read the novella The Short Game by J.L. Fynn, and the novels The Fault in Our Stars by John Green, and Indelible by Bethany Lopez, and another novella: First by Alyssa Rose Ivy.
Though I've been reading a few novellas, as I said I would, I started book #14 of 2014 last night – hopefully I'll be able to keep up with it and end the year with over 80 books read :)
WHAT I'M WRITING
I planned on writing about 8k words between Thursday and Friday last week, but my editor sent me Playing Pretend Wednesday night, so I worked on edits on Thu and Fri. Then, I formatted eARCs and sent to 60 bloggers who asked to review it. I'm soooo nervous!
Monday was a snow day, which means the kid stayed at home and wanted my attention. No writing there. Thankfully, on Tuesday I wrote 4300 words of Breaking Fences. Today is a snow day again, and this time the kid and the husband are home. The husband is holed up in my office, doing meetings through skype. Even so, I'll try to write at least 1000 words this afternoon, even if I have to sit in front of the TV with the laptop and pretend I'm watching a movie with the kid lol
Update: it's noon and I already wrote 2000 words (he husband played video games with the daughter). I'll try to get another 1 hour of writing this afternoon!
WHAT INSPIRES ME RIGHT NOW
Nothing in particular. Life? My family? My writing? My writer friends? Everything, I guess. We all have our ups and downs, but life is good. Very good :)
WHAT ELSE I'VE BEEN UP TO
Let's see. I joined a group on facebook and we're doing sort of a NaNo in Feb. We have a hashtag for it for twitter: #FebNo. So far it's been cool, though I'm already behind because of the snow days.
Besides Zumba, I've been "playing" XBox One Fitness programs. It's nice. On Saturday, I burned 400 calories in 30 minutes! Loved it!
Oh, and I revealed the 2nd pic teaser of Playing Pretend: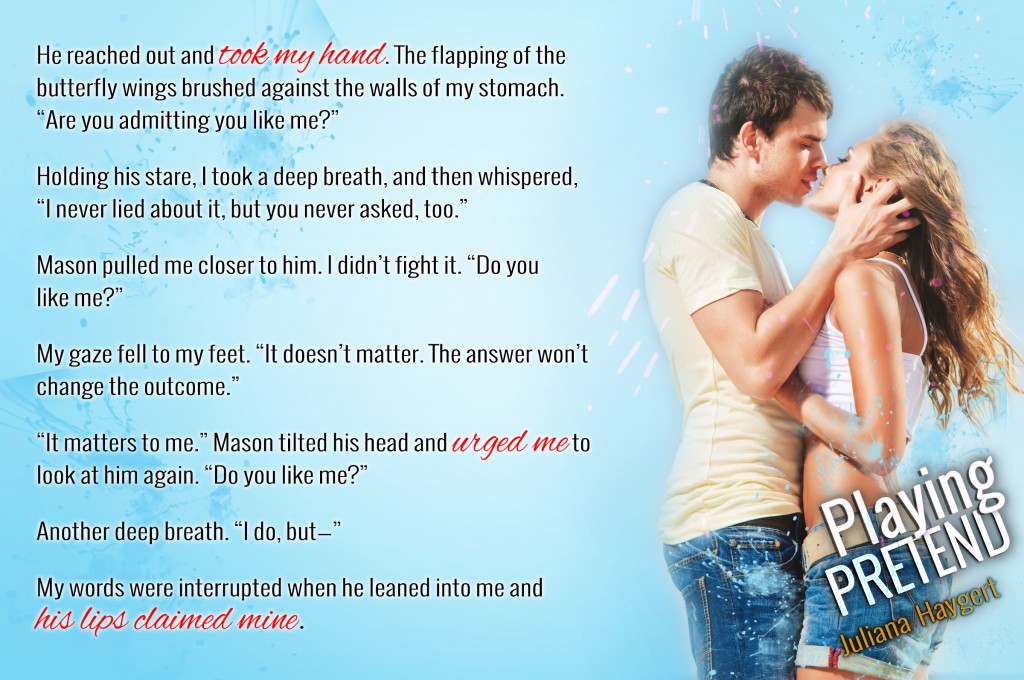 Now tell me, 
WHAT'S UP WITH YOU?
Don't forget to stop by Jaime's or Erin's blog and check out the linky list of the awesome writers who are participating of this meme!
Cheers,