Pre-Release: A Need So Insatiable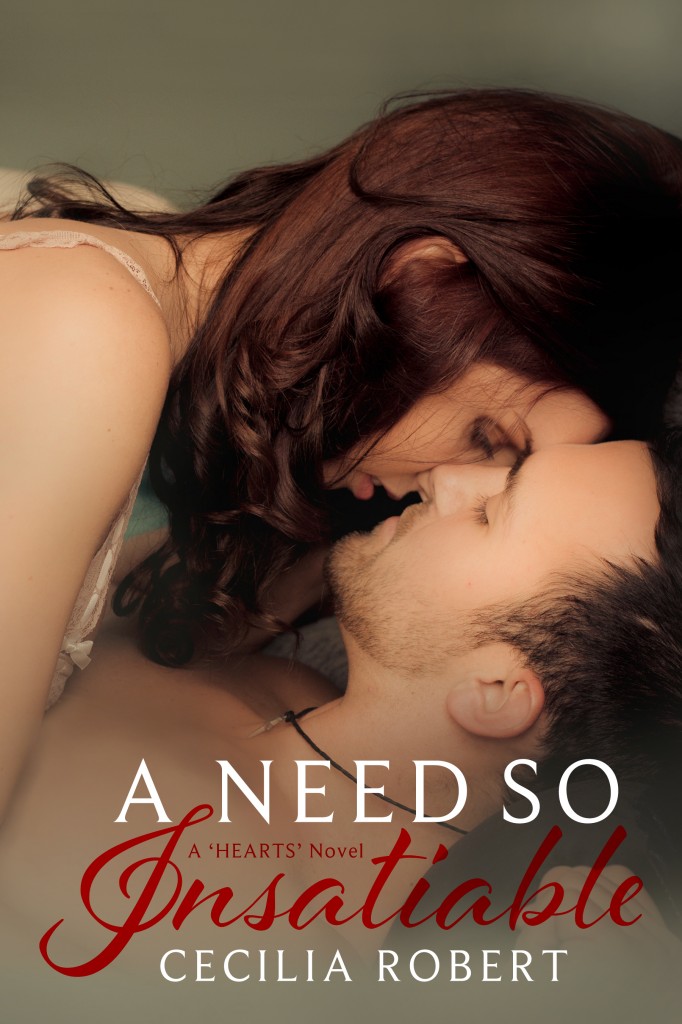 A Need So Insatiable (Hearts #1)
By Cecilia Robert
A New Adult/Adult Contemporary Romance
Releasing February 28th, 2014
"You've owned me from the moment I walked into that music room.You've wrapped yourself in my heart and mind. I can't get you out. I don't want to." ~ Rafael Van Rees
Sophie Fisher's life is on fire. If she's not ducking around corners or slipping out of windows to escape the debt collectors her father's death has left knocking on her door, she's dealing with her rebellious, fifteen-year-old sister, Lilli. And, as if that's not enough, Rafael Van Rees crashes into her life—literally—bringing with him a past the public has no idea of. Can she unravel his mysteries before he unravels her, or will his presence finally force her to face the demons she's trying to outrun?
Rafael Van Rees, maestro extraordinaire, prides himself on being in control of his destiny, music and women. As far as he is concerned, his past is a black cloud in the distance–until he meets Sophie, that is, and his world spins out of control in more ways than one. He knows the darkest sins and secrets eventually reveal themselves, but when it comes to Sophie, he'll stop at nothing to protect her from his past. Even if it kills him. 
Add it on goodreads!
A Need So Insatiable will be on sale for .99 cents the first few days of release!
INTERVIEW WITH CECILIA ROBERT
Q: Do you have a routine that you use to get into the right frame of mind to write?
Cecilia: Sometimes I listen to music as a motivation and inspiration to get my mind in the mood to write a story. If that doesn't work, I browse my Kindle or paperbacks on my shelf for books in the same genre I am writing in.
Q: Talk to us more about this new series, Hearts? A Need So Insatiable is the first book in this series.
Cecilia: Hearts — House of Hearts– is an event planning company. This series features the men and women working in this company.  As the series progresses, the company expands internationally. Readers will travel–without leaving their homes–to different cities around the world as they follow the character's lives.  Every book in this series will be  standalone.
A Need So Insatiable is the first book, featuring Rafael Van Rees a music director, and Sophie Fisher, an opera singer. Their story is not easy, but their love is strong. Intense. A Need So Insatiable doesn't focused solely on opera. There are a few storylines intertwining within the novel. This story has some action, extremely romantic and sensual scenes, as well as parts that will break your heart and mend it. I hope readers feel every emotion I felt while writing this story.
Q: What was your favorite part writing this novel?
Cecilia: I loved writing each and every scene in this novel. But if I was to choose  my  favourite part, I'd say I enjoyed exploring the relationships between the characters.
Sophie and her friends have the kind of friendship is strong. Her friends are always there for her, their loyalty unwavering. Then there's Rafael and his best friend, Hawk–their friendship goes way back. All these characters have something in common. They'd drop whatever they are doing within a blink to be at their friend's side.
Q: What do you like to do when you are not writing?
Cecilia: Other than writing, I'm a mother of two over-active kids, and also have a full-time job.  When I finally get time to breath, I just sit and watch TV, read a book or meet with friends just to hang out.
Q: Any future writing news you would like to share?
Cecilia: I'm currently working on a New Adult paranormal romance with steam punk & fantasy elements, RISE, the first book in the Cloaked Devices. This novel is set in, Anndesia, a fictional world entering the steam punk era. Some kingdoms are more developed steam-punk-wise than others. This novel is planned for release in summer/fall 2014.
The second one planned for winter 2014/2015 release is, Fate and Other coincidences, a romantic comedy about a hot kilt-wearing nerd who's been in love with a girl for the past two years. And finally gets to tell her how he feels when he boyfriend dumps her on voicemail.
About the Author
Cecilia Robert  writes YA, NA and Adult. My motto: Passion rules. I enjoy writing stories about people finding love in the most unexpected of places,and also about people finding their true purpose in life coupled with adventurous journeys, whether it's urban, fantasy, sci-fi, contemporary or paranormal romance. There's always a happy ever after, no matter how long it takes for the characters to get there. 
Cheers,