My Writing Process … Blog Tour
I was invited to be part of this fun game, My Writing Process Blog Tour, by the lovely Elodie. She will be releasing her first book,  One, Two, Three, in June and I can't wait to read it! You can (should) follow her on twitter and on her blog!
Now, on with the game: 
What am I working on?
I'm also thinking about a *secret project* that I want to tackle soon. I never had a secret project before and this is exciting!
How does my work differ from others of its genre?
Well, I think everyone's  work is different, because it's their voice, their characters the way they created them, their story, their view of it. And my work is no different. A little of my soul and blood goes with each one of my stories …
Also, I write in more than one genre within New Adult, so my readers can find every flavor in my books: sweet romance, angsty romance, some fantasy and paranormal.
Why do I write what I do?
I've started writing New Adult way back when … it was when I was in my early 20s, actually (around 2004-2007). So, I'm proud to say that I was writing New Adult way before it was a thing! But it wasn't a conscious thing, you know. I just wrote it because I felt comfortable with it. I was writing about characters who were my age … nothing felt more natural.
And, like I said above, I write in many genres within NA and I usually switch with my mood. However, all my stories have plenty of romance, because come on! Who doesn't like a bit of romance?
How does your writing process work?
It depends on the book. But usually, it begins with a simple idea (a song, a music video, something someone said, a feeling …). I write this idea in one of my many notebooks and let it simmer. Each time this new idea expands, or scenes and characters come to me, I write on the notebook. I don't try to force it out. Unfortunately, it doesn't work that way.
Let's not forget about Pinterest! I create a new board for the new story (usually keep it hidden while it's in the plotting stage *wink wink*) and add images that remind me of my story. I spend many, many hours pinning! It's great to get a feeling of setting, characters, mood, etc …
After that, I open scrivener and work on an outline to follow. Even if I don't know every step, I usually know the middle and the end, and I can fill in the blanks as I go. But, when I end a scene, I plot the next 2 or 3, so I know where I'm going …
When the first draft is done, I revise it using an outline – I make changes on the outline (using colors!) and then follow it for the revision. Hopefully, after that detailed revision, the manuscript is ready to be read by my editor or my beta-readers.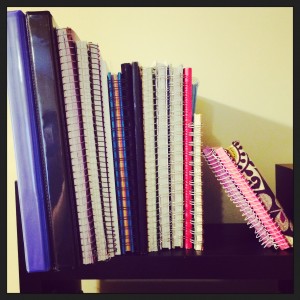 My plotting notebooks!
My turn to pass the torch! The next three writers to tell us about their writing process are: 

 
E.J., Carrie, and Summer!
Carrie Butler
 daydreamed her way through college—until they thrust a marketing degree into her hands, slapped a 
summa cum laude
 seal on the corner, and booted her out into a less-than-stellar job market. Instead of panicking at the prospect of unemployment, she used her Midwestern logic to steer into the skid and point her life in the direction she really wanted to go: writing out those daydreams. Her Mark of Nexus series has appeared on Amazon bestselling, top-rated, and hot new release lists in various genres.
Summer Lane
is the author of the national bestselling YA/NA Romantic Adventure novels, 
State of Emergency,
State of Chaos
, and 
State of Rebellion, 
the first three installments in 
The
Collapse Series.
 She is a freelance writer, publicist and lover of all things feline. Summer began writing when she was 13 years old, due to the fact that the long afternoons after school were somewhat boring, and writing stories seemed to make the time pass a little quicker. Since then she has written many books about jungle cats, secret agents, princesses and spaceships. She is also a non-fiction writer, but her debut novels of 
The Collapse Series
 are her favorite books yet.
E.J. Wesley
resides in South Texas. He holds degrees in psychology and counseling, but prefers to examine the heads of fictional characters over the living ones. He likes his food and his stories spicy, and tries to give a little extra 'kick' to paranormal, horror, and the other genres he writes. In true Texas fashion, he is very neighborly, and enjoys chatting about books, movies, music, and family.
Cheers,