Author Spotlight: S.J. Pajonas
Welcome to my blog, S. J. Pajonas!
Nicknames: Well, my full name is Stephanie though I use my initials for writing the books. I go by Steph mostly. My husband sometimes calls me "Scifi Stephie" when he wants to yank my chain, but that's about it. I guess I'm not very nickname-able!
Where do you live: In northern New Jersey. We moved here from Brooklyn where I lived for 11 years. I still love Brooklyn and miss it sometimes. What I don't miss are my screaming neighbors, having to move my car every other day, and the lack of outdoor space for my kids.
Your favorite dessert: Anything chocolate. I'm not too picky ;)
Your favorite TV series: Hmmm, tough one. I still think Star Trek: The Next Generation was pretty darned perfect. Since then I have loved Star Trek: Voyager, Stargate SG1 and Atlantis, Battlestar Galactica (which may be tops), and LOST. As you can see, I like long series with wide-sweeping storylines and complex characters. Most recently I have loved Breaking Bad and Homeland, so I do stray out from scifi and fantasy.
Last book you read: Butterman (Time) Travel by PK Hrezo. I love it so far and I'm still reading it in between blog post writing and revisions on my own books. It sometimes takes me a while to read anything for fun.
Last movie you watched: Star Trek Into Darkness. This was a rewatch. We really loved it.
Last song (or album) you bought: I bought two Neutral Milk Hotel albums that I didn't have for some crazy reason!
A book/series you could read over and over again: I have read the Ender series (Orson Scott Card) several times and the Foundation and Robot series (Isaac Asimov) several times. But I've also read the Anne of Green Gables series and Harry Potter series many times too, so I'm not just stuck on science fiction.
Coke or pepsi? Coke. Pepsi is the devil.
Day or night? Day. I like to sleep at night!
Pen or pencil? Pencil. Mechanical. Preferably Japanese.
Summer or winter? Summer, hands down. I need a winter home in Brazil. Can you help me out on that?
Cat or dog? Dog. I'm actually allergic to both, but I like dogs, and there's the chance in my future of owning a hypoallergenic dog.
Tea or coffee? Tea now. I love coffee and miss it, but it did horrible things to my stomach. Sadness.
Plotter or pantser? Pantster. Occasionally, I'll write out a paragraph or two of plot ideas before starting a project but that's about it.
When did you first realize you wanted to be a writer? Oh, I have no idea. I wanted to be an astronaut FOREVER, and if I were given the chance to go into space, I'd take it in a heartbeat. I've been an avid reader all my life and have always had a good grasp of the English language and its quirky grammar rules. I think I decided I really wanted to write when I was in college. I was taking screenwriting classes and wanted to go on into that career path. But then I graduated, had an extreme amount of debt, and realized I couldn't afford grad school. So I learned how to build websites. I've been designing and building websites for the past 15 years. It paid the bills, and I'm so happy to have all that knowledge now as a self-publisher. I no longer build websites for a living (I'm a stay-at-home mom) but I use my skills to build my blog and other things for my books.
What are you working on now? More Nogiku books and a contemporary romance book that I absolutely adore. It's also a part of a series of stand-alone books (no cliffhangers and each one is its own story) so expect both contemporary and science fiction romances from me in the future.
If you decided not to be a writer, what would your other dream job be? Why? Go back two questions and you have your answer! I really wish there was a way for civilians to easily get into space. That's what I would do. I've always dreamt of a career in space. I want to look down on the world from above. That just seems mind-blowing and magical.
What is the scariest thing you've ever done in your life? Quit my fantastic job at HBO to be a stay at home mom. Really. Scariest thing I've ever done. It was a six-figure salary. Gulp.
What is one talent that you're hopeless at, but you wish you had? Whistling. I can't whistle!! Why? I have no idea. I've tried my whole life and can't do it. I really wish I could. My husband is a great whistler. I always sigh when he starts up.
What is one trait or physical characteristic that you are proud of/love about yourself? I'm extremely persistent. If I want something and there's a way to get it, I get it. Most of my friends tell me they admire how I make goals and I go out and accomplish them. To not do that? To be stagnant? That's not me. I have fears of rejection and yet I still try. If someone were to tell me I can't do something, it only makes me try harder. I push the naysayers aside. And if a friend wants something and needs my help, I give it if I'm able to. I'm extremely loyal.
Do you have any suggestions for aspiring writers? This is the same advice I give everywhere :) Find a method that works for you and stick with it. If you outline, keep outlining. If you can only write in coffee shops, take the time to go to one. I am a pantster and there is no breaking me of it. It works for me and what works for one author does not always work for another. Concentrate on your own methods and definitely do not try to tell someone else that their method is "wrong." Whatever gets the words onto the page!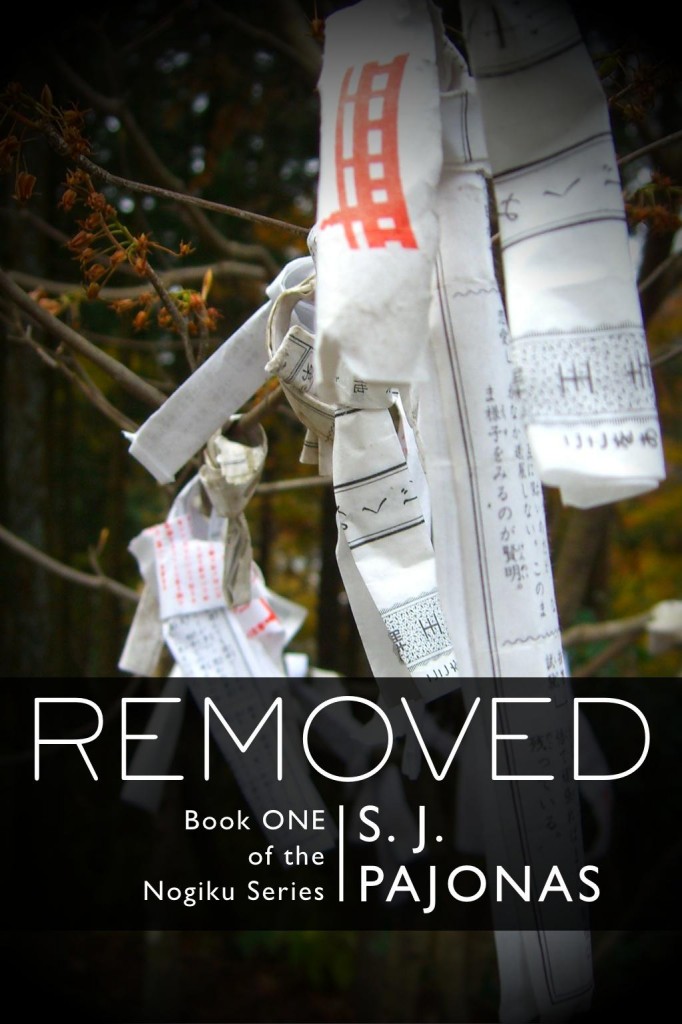 Removed (The Nogiku series #1)
by SJ Pajonas
Genre: Science Fiction Romance, Post-apocalyptic
Age category: New Adult
Release Date: September 11, 2013
Duty knows no family. Love has no price. Secrets can cost you everything. Twenty-year-old Sanaa Griffin, a sweet and smart half-Japanese girl, is about to get more than she bargained for when she wishes for love and excitement on New Year's Eve 3103. Mark Sakai, who knows more about her than any stranger should, thinks Sanaa is the perfect person to spy on the heads of the three biggest Japanese clan leaders in Nishikyo. He wants her to gather enough evidence to keep them from going to war when they land on Earth's colonization planet, Yusei. Nishikyo, built by the Japanese 300 years ago to house the rest of mankind, is failing and everyone is preparing to leave. Sakai has known Sanaa's family all her life but she knows nothing of him! And despite all the time they spend together, he keeps his distance from her. Then one day, he brings her to Jiro, his nephew, to learn sword fighting, and it changes her life irrevocably. Between falling in love with Jiro and the information she is gathering on the clans, Sanaa realizes Sakai is holding back secrets about her family and her deceased parents, secrets as to why she was chosen for this job, and learning the truth puts her and all of Nishikyo in danger.
You can buy Removed here: Amazon | B&N | iBooks | Kobo | Wattpad
You can watch the trailer for Removed on Youtube: http://www.youtube.com/watch?v=oPzShpFemIg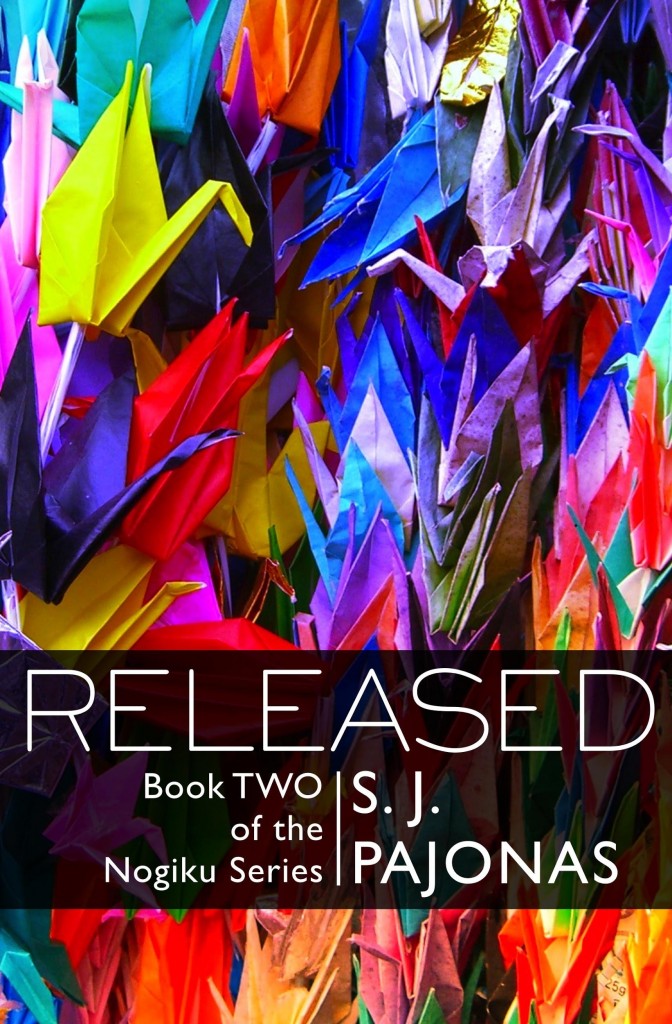 Released (Nogiku series #2)
by SJ Pajonas
Genre: Science Fiction Romance, Post-apocalyptic
Age category: New Adult
Release Date: December 17, 2013
**Contains spoilers for those who have not read REMOVED (Book 1)
Left in the desert to recuperate from her injuries, Sanaa Itami paces the floors and contemplates her mistakes. She trusted too easily, and now people she loved are dead, killed at the hands of men coming to assassinate her. Sanaa feels beaten, but life awaits her at home. While Nishikyo recovers from the earthquake, negotiations for Sanaa's eventual rule on Yusei continue. New allies must be made, new friendships brokered, new skills acquired — at all costs. Life at the top of the chain is complicated and lonely, though. With relations in Sakai clan rocky and uncertain, Sanaa must learn to trust others again more than she's willing. Who amongst the clans is left holding a grudge? And will the new family Sanaa has found with Jiro support or betray her? From Nishikyo to Yusei, RELEASED, Book TWO of the Nogiku Series, is the second book in a captivating New Adult post-apocalyptic romance series that harnesses the cultures and traditions of Japan and sweeps them into the future between Earth and a faraway land.
You can find Released on Goodreads!

You can buy Released here: Amazon | B&N | Kobo
 About the Author:
S. J. Pajonas loves all things Asian and has been in love with Japan for as long as she can remember. Writing about Asia and Japan came naturally after studying the culture and language for over fifteen years. She studied film and screenwriting first and eventually segued into fiction once she was no longer working a full-time job.
Released is S. J. Pajonas's second work, book two of four in the Nogiku Series. The first book in the series, Removed, is described as "a wonderful story" with "engaging characters, seamless world building, and an action packed plot." It's an "up-til-3am-because-I-read-it-in-one-sitting book." She also writes contemporary romance and her upcoming first book in the Love in the Digital Age series will be published in 2014.
S. J. lives with her husband and two children just outside of New York City. She loves reading, writing, film, J- and K-dramas, knitting, and astrology. Her favorite author is Haruki Murakami and favorite book is The Wind-up Bird Chronicle.
Website | Facebook | Twitter | Goodreads | Pinterest | Flickr | Instagram | Tumblr
There is a tour wide giveaway for the blog tour of the Nogiku series. These are the prizes you can win: Amazon Gift Cards, copies of REMOVED, and eBook copies of two fantastic Japanese books: JAPANESE SOUL COOKING and THE SAKE HANDBOOK. Both will be gifted through either Amazon (kindle) or Barnes&Noble (nook).
Here are the links to both books on Amazon:
Sake Handbook on amazon: http://www.amazon.com/Sake-Handbook-John-Gauntner-ebook/dp/B007H9GVMI/
Japanese Soul Cooking: http://www.amazon.com/gp/product/B00BVJG5GC/
Cheers,