Monthly Archives:
November 2014
TETHERED (A BirthRight Novel #1)
No matter how you try to fight it—Destiny has a mind of its own!
Returning home to her Wiccan roots wasn't quite what nineteen-year-old Chloe Bishop had in mind for summer break. But when fate makes other plans, Chloe is forced to face her unwanted magical abilities—the destiny she never knew existed—and the handsome stranger who is somehow tethered to both.
Amazon: http://amzn.to/1fOcKQE
Kobo: http://bit.ly/1i93Mig
iTunes: http://bit.ly/1cKmEEb
Goodreads: https://www.goodreads.com/book/show/18627447-tethered
TEMPTED (A BirthRight Novel #2)
What if the very thing to save you—is the one thing beyond your reach?
Torn between the two men who have fallen for her—and the evil who wants to possess her—twenty-year-old Chloe Bishop can no longer remember the fatal vision which threatens her future happiness. But when the magical link is severed between Chloe and her Wiccan family, they must find a way to save her, before temptation leads her into darkness, and into the welcoming arms of Mr. Wrong.
Amazon: http://amzn.to/Rkb4qY
Kobo: http://bit.ly/1pkwa4O
iTunes:  http://bit.ly/1loxxz3
Goodreads: https://www.goodreads.com/book/show/20486768-tempted
TANGLED (A BirthRight Novel #3)
Release Date: 10/31/14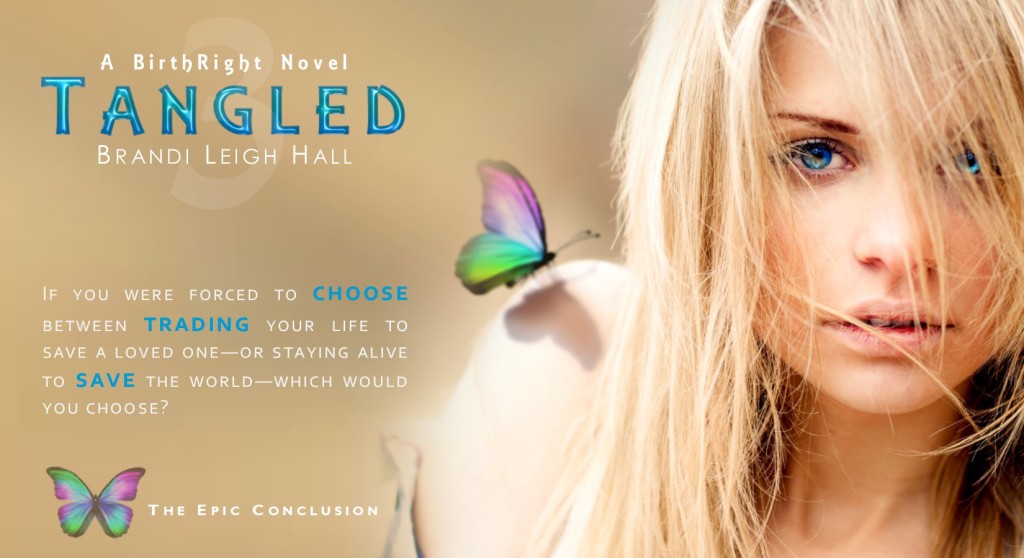 If you were forced to choose between trading your life to save a loved one—or staying alive to save the world—which would you choose?
With the impending battle closing in, Chloe and her magical family must work with a former rival to fulfill the Prophecy. Yet neither side knows the true Evil their up against, or who might be taken out in the process. But in the moment of truth, Chloe's compelled to make the most unimaginable decision of her life. Will love of family—or the fate of the world—dictate her defining moment? And more importantly, will she be strong enough to accept the ripple effect caused by her choice?
The Epic conclusion of The BirthRight Series.
On Sale for $1.99 (reg. price will be $3.99)
Amazon | B&N | Kobo | iTunes| Goodreads
RAFFLECOPTER – TANGLED RELEASE WEEK GIVEAWAY
About the author: 
Brandi is a YA and NA author, whose stories lean towards the sweeter side of romance. Her novels combine magical elements with real-life issues, strong female characters, semi-old-fashioned men, and family values, woven together and told from an organic and fresh, first-person perspective.
Growing up in a haunted house inspired Brandi's fascination with the paranormal, so it only made sense she'd write Urban Fantasy for both teens and adults.
The first two novels in The BirthRight Series have frequented Amazon's Top 100 in 6 categories this year, while the final installment, TANGLED, promises to soar to the top in no time.
Brandi lives in Central PA with her fur-ball cats (Onyx and Klepto), where she spends most of her time attached to her laptops, reading books, appeasing her sweet tooth, and watching TV for motivation.
AUTHOR LINKS
Blog: www.BrandiLeighHall.wordpress.com
Website: www.BrandiHall.net
Twitter: https://twitter.com/BrandiLeighHall
Facebook Author Page: https://www.facebook.com/BrandiLeighHall
Pinterest: http://www.pinterest.com/BrandiLeighHall
Goodreads: https://www.goodreads.com/author/show/7325602.Brandi_Leigh_Hall
Cheers,
Hi friends,
This year, I'll TRY to participate of NaNoWriMo. The past couple of years, it was difficult because I had to work on edits of other projects, which left me with little time to write, but this year I don't think I have any edits to work on …
However, I don't write on weekends, and then there's Thanksgiving … We'll see how far I can get with my novel ;)
Are you NaNoing? Add me as buddy!
Good luck to us!
Cheers,