Monthly Archives:
August 2014
Hi friends!
Remember I've been talking about writing a secret project, then about seeing the cover of a secret project?
The secret project is called Midnight Kiss: Four New Adult Paranormal Romances, and here's a teaser: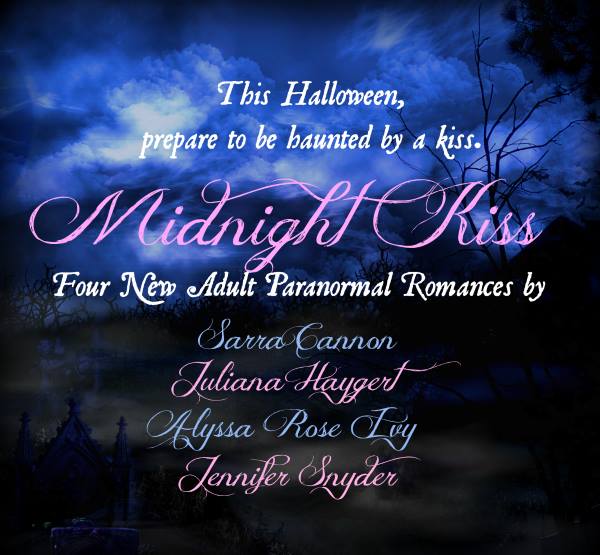 This is not a boxed set of previous published books. We wrote new stories with a Halloween theme (and other common elements) just for this boxed set.
My story is called The Midnight Test and I created a pinterest board for it!
Giselle from Xpresso Book Tours is organizing the cover reveal scheduled for Sept 5th. You can sign up to participate clicking here.
Cheers,

Hi Friends!
I haven't posted in 3 weeks, so here's what happened during that time:
READING:
I've read If I Stay by Gayle Forman, Siege and Storm by Leigh Bardugo, Poison by Bridget Zinn, and Moon Called by Patricia Briggs.
I've also read a manuscript by a friend.
WRITING:
I've been writing Captured Love.
WHATELSE:
The cover reveal of Captured Love is on August 21st, and if you want to help me with it, you can sign up for it here!
I'm one of the founders of NA Alley, but as of last weekend, I'm not a member of the blog/website anymore. Unfortunately, I'm busier than I ever was and with the pregnancy, I need to slow down. As it is, I can't give as much of myself to the blog as I would like to, and decided it wouldn't be fair to the other members. I'll still support NA Alley and hope you do too!
ON MY BLOG:
– Teaser Tuesday
– Cover Love : Fierce
– Cover Love: Tyler
– Release Day: The Horde Without End
– Release Day: Tyler
Tell me about you? Anything new? Writing or reading a lot? Any inspirational posts out there you want to share?
Cheers,