What's Up Wednesday
The lovelies Jaime Morrow and Erin Funk came up with the WHAT'S UP WEDNESDAY meme. Here's Jaime's explanation about it: "It's similar in some respects to the Currently… post, but it's been whittled down to only four headings to make it quicker and more manageable on a weekly basis. You're invited to join us if you're looking for something to blog about, a way to let your blog friends know what's been going on with you."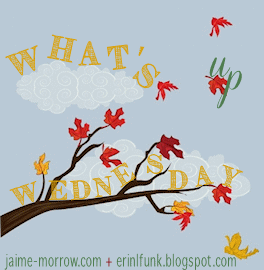 I haven't posted on What's Up Wednesday in two weeks, so I have a lot (I think) to report:
WHAT I'M READING
I read My Story Can Beat Up Your Story by Jeffrey Schechter – great, great plotting book. Seriously, you all should read it!
I also read State of Chaos by Summer Lane, and 3 Xmas novellas: If I Return by Sawyer Bennett, Off the Market by Magan Vernon, and Christmas Catch by Chelsea Cameron.
I also read Sentinel by Jennifer L. Armentrout – much better than Origin, which I still didn't finish.
WHAT I'M WRITING
Remember I said I aimed to write 15k words of Playing Pretend two weeks ago? I ended up with a little over 6k only – the kid got sick and stayed home Thursday and Friday, so no writing for me :(
Last week, I worked on the last pass of edits of Soul Oath. Now, the eARCs are out with bloggers and I'm back to Playing Pretend. I wrote 3000 words on Sunday during write-in, Monday I worked on ARCs of Cup of Life, and then I wrote another 1000 words on Tuesday – had to work on some guest posts and interviews …
WHAT INSPIRES ME RIGHT NOW
Once Upon a Time.
I've watched the 1st episode a long time ago and though meh, this isn't that interesting. But everyone on twitter talks about it, so last week I decided to give it another try. I watched the 1st episode again and pushed to the 2nd episode – well, I only stopped after I watched the 5th, so that should tell you if I liked it or not. I've been watching it while on the elliptical and my lunch breaks and sometimes after the kid goes to bed, but before watching a movie with my hubs, so, I'm already on the 10th episode of the 2nd season!
I'm amazed how they are putting the fairy tales together, how they all fit, the twists! It's awesome and I'm really jealous of their creativity!
WHAT ELSE I'VE BEEN UP TO
As I mentioned above, the kid was sick during Halloween, so we ended up missing Trick or Treating – however, we played trick or treating inside. My hubs and I got a bowl of candy each and we hid behind doors. The kid went around the house, knocking on the doors. We opened the doors, pretended surprise, told her how beautiful her costume looked lol It lasted a looooong time, because she wanted to do it in every single door. But it was fun. She loved it.
Whatelse. I had a write-in last Sunday with Ghenet and Jessica – I left a little early, but it was very productive anyway. Even if I had gotten only a few words down, it's good to see them and talk about writing and publishing a bit.
And the rest has been just routine …
WHAT'S UP WITH MY BLOG
– Well, not on my blog, but on NA Alley: we have a survey up. Please, spare two minutes of your time and answer it.
– Soon Soul Oath is going to be out and the sign-ups for a week-long book blitz  is up!
Now tell me, WHAT'S UP WITH YOU?
Don't forget to stop by Jaime's blog and check out the linky list of the awesome writers who are participating of this meme!
Cheers,