What's Up Wednesday
The lovelies Jaime Morrow and Erin Funk came up with the WHAT'S UP WEDNESDAY meme. Here's Jaime's explanation about it: "It's similar in some respects to the Currently… post, but it's been whittled down to only four headings to make it quicker and more manageable on a weekly basis. You're invited to join us if you're looking for something to blog about, a way to let your blog friends know what's been going on with you."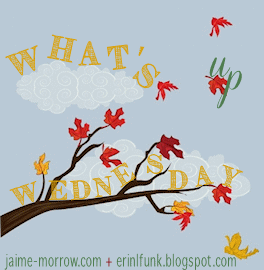 WHAT I'M READING
I read Lovely by Beth Michelle – a New Adult told from a guy's POV. Different and interesting. I really liked it.
Now I'm reading My Story Can Beat Up Your Story by Jeffrey Schechter – so far it's really good and funny. I laugh every few paragraphs ;)
WHAT I'M WRITING
I'm working on Playing Pretend … I want to write 15k words this week. Monday, I wrote 2700; Tuesday, I wrote 2300. So today, to stay on track, I should write 4000! Yikes!
WHAT INSPIRES ME RIGHT NOW
Dancing.
As I mentioned on a previous What's Up Wednesday, I bought the Zumba game for PS3 – it's great but I needed more. So, I have turned on youtube on the living room TV, which is hooked up with a great home theater, search for songs I really like, turn the volume really loud, and dance! hehe And it's so good … I mean, not only as an exercise for my body, but for my mind too. I love, love dancing … and I think that my dance session actually makes me want to dance more, so some nights, after the kid has gone to bed, I put on my earphones and dance again!
One of the current songs:

WHAT ELSE I'VE BEEN UP TO
Nothing much.
On Sunday, hubs and I celebrated 12 years together (not our wedding anniversary – that's in April!), so we went out for dinner, then watched a good movie cuddled in the couch ;)
What else? Getting ready for Halloween tomorrow and then taking the kid to a birthday party on Friday.
Last year, hurricane Sandy hit us during Halloween. Since majority of the town was without power and trees blocked streets and all that jazz, the townspeople got together and created the Trunk of Treat. Everyone drove to the town green, parked their cars there and the kids had their trick or treating around the cars! It was so much fun that this year they are doing it again just because everyone liked it!
Oh, and I joined Instagram this morning! Still have no pics there, but I'm there …
Now tell me, WHAT'S UP WITH YOU?
Don't forget to stop by Jaime's post and check out the linky list of the awesome writers who are participating of this meme!
Cheers,