What's Up Wednesday
The lovelies Jaime Morrow and Erin Funk came up with the WHAT'S UP WEDNESDAY meme. Here's Jaime's explanation about it: "It's similar in some respects to the Currently… post, but it's been whittled down to only four headings to make it quicker and more manageable on a weekly basis. You're invited to join us if you're looking for something to blog about, a way to let your blog friends know what's been going on with you."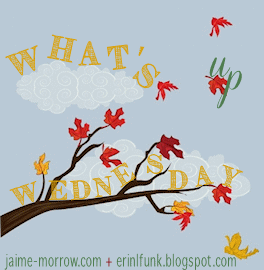 WHAT I'M READING
I finished Frostbite by Lynn Rush last night. It's labeled NA and the protagonist in the last week of HS – it's fun and fast-paced. I recommend it ;)
During the write-in on Sunday (more about it later), Ghenet was reading The Plot Whisperer and Cris said she had just read My Story Can Beat Up Your Story by Jeffrey Schechter and loved it – so I bought both of those once I got home. That conversation made me realize that I haven't read many craft books lately, and I should. Everyone should. I also remembered I had started Writing Irresistible KidLit by Mary Kole but didn't finish, so I did that. I picked it up and finished it on Monday night. I confess it wasn't anything new. Mary Kole touches on characterization, emotions, goals, plot, theme, voice, etc – it was a good reminder. I guess a beginner writer might benefit more of this book, though.
Now I'm browsing through my kindle and my shelf, trying to figure out which one of the 300 books I will choose …
WHAT I'M WRITING
Soul Oath (The Everlast Trilogy #2) and Cup of Life (The Everlast Trilogy #2.5) are with my editor for line-edits, and I'm back to Playing Pretend – I have 27k words down and it should be other 30-35k to finish it. Monday I relaxed – I think it was deserved! Tuesday I began rereading those 27k words – I should finish rereading today, I hope, and then I'll start (finish?) writing it.
I see everyone talking about NaNoWriMo … I wish I would participate, but like I said, I need only more 35k for this manuscript, and I need to start it now because 2 weeks of Nov are reserved for editing Soul Oath and Cup of Life … this year, I think I'll just cheer on :)
WHAT INSPIRES ME RIGHT NOW
I don't know. Music, life, reading, dancing, my story kernels … but nothing in particular, not that I noticed.
WHAT ELSE I'VE BEEN UP TO
I had a great write-in with my girls last Sunday – Cris brought a new girl to our group, Jessica, and she's really cool. Ginger couldn't make it to our write-in, though I'm sure she'll be there on the next one!
The cover reveal of Playing Pretend is set for Nov 8th and sign-up is open! I'm very excited about it. It's a light, fun, smexy NA contemporary – different from Breaking the Reins, but I like it too much to let it go …
WHAT'S UP ON MY BLOG
These are my blog's posts from the past week:
– I revealed the second pic teaser of Soul Oath!
– Cover Love: Tell Me When by Stina Lindenblatt
– Book Blitz: The Faerie War
– Cover Love: Released
Now tell me, WHAT'S UP WITH YOU?
Don't forget to stop by Jaime's post and check out the linky list of the awesome writers who are participating of this meme!
Cheers,