What's Up Wednesday
My friend Jaime Morrow and her sister Erin Funk created the WHAT'S UP WEDNESDAY meme. Here's Jaime's explanation about it: "It's similar in some respects to the Currently… post, but it's been whittled down to only four headings to make it quicker and more manageable on a weekly basis. You're invited to join us if you're looking for something to blog about, a way to let your blog friends know what's been going on with you."
WHAT I'M READING
I finished Eyre House by Cait Greer on Monday night. It's amazing and I'm sorry it took me so long to read it – but I was too busy.
Last night, I started Obsession by Jennifer L. Armentrout because a publicist from Entangled asked me to. But … it was on my TBR list and I do like Jenn and her writing very much, so I would probably get to it at some point anyway.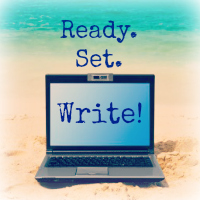 WHAT I'M WRITING
Last week, I wrote 22k words and I finally finished Breaking the Reins … yay! At first, I thought I could wrap the story at 60-70k words … turns out I typed The End with 94k words! Crazy …
Yesterday, I got an editorial letter from my editor and now I'm working on a plan for revisions. I have to get these revision back to my editor by July 1st – which means my first 2 weeks of Ready. Set. Write! will be spent revising.
WHAT INSPIRES ME RIGHT NOW
Music as always. This one has been on repeat lately:
ALSO, Monday evening I (my writing, actually) got compliments from two different editors – it was great and it lifted my spirits a lot. I wish I could quote them here …
WHAT ELSE I'VE BEEN UP TO
Nothing much.
I took the kid to a birthday party on Sunday and they had an animal show … bunnies, hedgehogs, lizards and snakes! And … the kids could pet them all – including getting a hug from the snake. Here's my kid:
My mom almost fainted when she saw that photo lol
Whatelse? Hubs was travelling for the last three days, which made the house considerably less noisy … I do hate it when he travels :(
I exercise everyday religiously, including Sat and Sun, but yesterday I just couldn't. My lower back was killing me and it's starting to bug me to the point I think I should see a doctor. I know my posture hasn't been great since I had to stop dancing ballet, but I guess it has been getting worse and worse with time …
And I can't think of nothing else ;)
Now tell me, WHAT'S UP WITH YOU?
Don't forget to stop by Jaime's post and check out the linky of the awesome writers who are participating of this meme!
Cheers,