The Dracian Legacy by Priya Kanaparti Blog Tour Stop
Today I have the honor of hosting my CP Priya during the blog tour of her newly released book, The Dracian Legacy!
Nicknames: Prino – Don't ask…. It was a High School thing
Where do you live: Boise, ID
Your favorite dessert: Cheesecake!
Your favorite TV series: Supernatural all the way =)
Last book you read: Never Too Far by Abbi Glines
Last movie you watched: Bourne Legacy
Last song (or album) you bought: I knew you were Trouble by Taylor Swift
A book/series you could read over and over again: The Covenant Series by Jennifer L Armentrout
Coke or pepsi? Neither, I'm more of a Crush girl
Day or night? Night owl
Pen or pencil? Pencil
Summer or winter? Brrr…. Summer
Cat or dog? If I don't say Dog, Koda, my 5pd yorkie, is gonna kick my behind… DOG
Tea or coffee? Neither… Can I have a glass of water please?
Plotter or pantser? haha, Total Pantser!
When did you first realize you wanted to be a writer? Earlier Feb 2012.
What are you working on now? I'm working on a NA Contemporary romance involving Biker dude, flirty roommate, and a girl that's been running from past and can't seem to trust anyone to hand over her heart. I'm a Panster, so my stories always change, but it's secret so, shh… Oh, also Dracian Legacy, Book 2.
If you decided not to be a writer, what would your other dream job be? Why? Actually my dream job would be writing.
What is the scariest thing you've ever done in your life? Hmm… Probably attempting to go tubing at Bogus Basin. Yeah, I didn't even get on that tube, I chickened out before I was pushed down the icy slop.
Who is the one person that has singlehandedly inspired you the most in your life? Wow… That's a hard question. When I was younger I used to watch "Mahabharat". There's a character named Bheesma. His character believes in keeping promises regardless of the consequences.
What is one talent that you're hopeless at, but you wish you had? Ice skating, Roller blades… Anything skill that links a non-friction ground with my body =)
What is one trait or physical characteristic that you are proud of/love about yourself? I treat others the way I expect to be treated.
Do you have any suggestions for aspiring writers? Hold you head high, keep kicking when you don't think there's anything to be hopeful about. It'd be worth it at the end. Trust me =).
About the author: Priya Kanaparti was born in India, grew up in Detroit, and is now living in Boise, ID. She attended Wayne State University for her undergrad degree in Bachelor of Science in Biology, and University of Phoenix for her Masters in Business Administration. Priya works as a project manager in software field during the day and lives in the world of her characters during the nights and weekends. She had found the love for reading and writing early this year, when she stayed home with her year old and needed something to occupy those 'downtime' hours.
She loves playing tennis on a good summer day and chess during the cold winters, but reading and writing has become a year round hobby.
She lives in Boise with her husband, son and a Yorkie. Dracian Legacy is her debut novel.
Twitter | Facebook | Goodreads | Google+ | Pinterest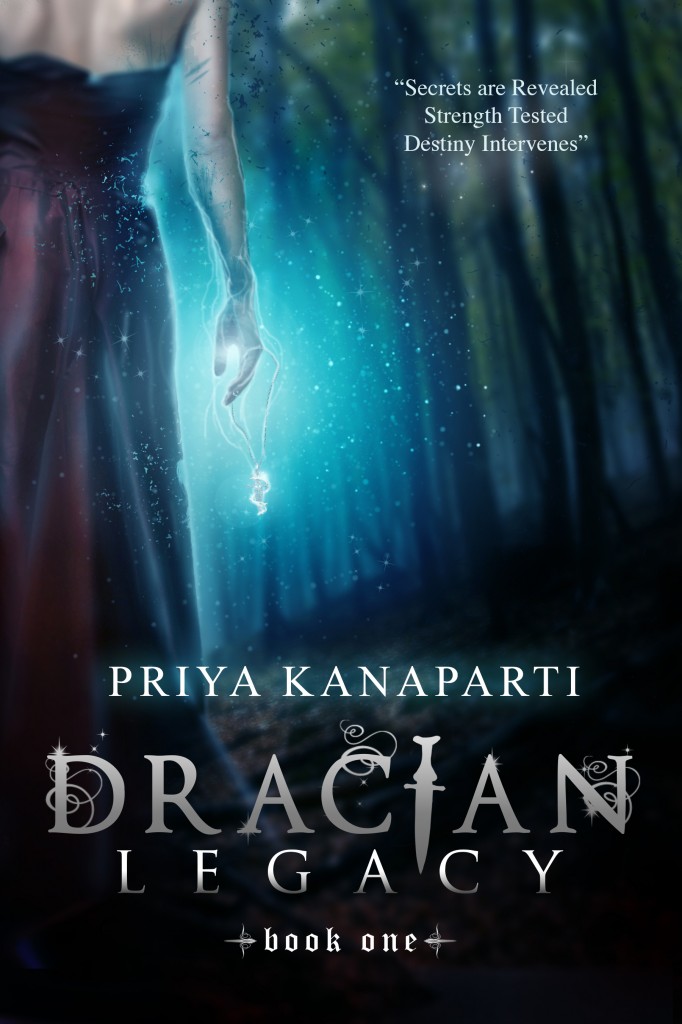 Genre: YA Paranormal Fantasy Romance
Release Date: February 14th, 2013
Blog Tour Dates: February 12th, 2013 through March 15th, 2013
Availability: E-book and print format
Count Word: 85,000
Cover Designer: Regina Wamba at maeidesign.com
Blurb:
Ren and Axel are caught between two powerful magical races: one destined to end the bloodshed, the other out for vengeance.
Seventeen-year-old Ren Pernell is prophesied to end the war between the Dracians and the Telalians. So when a Dracian, Axel Knight, is sent to find and bring back the prophesied one before she turns eighteen and Telalians discover of her existence, unexpected sparks start to fly between the two. Once Ren finds the truth behind Axel's arrival, she wants everything to do with him and nothing to do with his mission.
Things prove to be difficult as Ren's life is constantly threatened by forces that are beyond her control, including the leader of the Telalians.
With the clock ticking and Ren's life in jeopardy, it is no longer just a mission for Axel. It becomes a personal endeavor to save the only one he's ever loved. In a heart racing ending, they must find a way to evade the preordained war that won't also end Ren's life.
Add it on Goodreads
Buy it on Amazon | Barnes&Noble
Visit Priya on her other blog tour stops:
3/13/2013 – Devyn's Thoughts About Books
3/15/2013 – Bookwyrming Thoughts and K-Books

Cheers,