Ready. Set. Write!
I was going to attempt JuNoWriMo this month, but with all the things going on (editing Breaking the Reins, reading 4 books for author blurbs by June 18th, the NA Crush Tourney, organizing the Stamford Author Event, etc), I just can't commit to writing 50k words in one month. Not anymore.
As if it was sent from heaven, I saw post from Alison Miller, Katy Upperman, Elodie Nowodazkij, Erin Funk, and Jaime Morrow yesterday about what they call Ready. Set. Write!
In Alison's words: "Katy Upperman,Elodie Nowodazkij, Erin Funk, Jaime Morrow, and I are hosting the summer writing intensive Ready. Set. WRITE! and we'd LOVE for you to join us! We plan to kick off a summer of writing Tuesday June 11th and write, write, write for 2 months! We'll update weekly on what we've been writing and our new goals for the week. Care to join us in our writing bliss?!"
I care!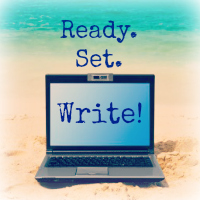 Here are the details (copied from Alison's blog):
Purpose: for drafting/revising/writing flash fiction or short stories—whatever! As long as we're writing!
What we'll do: 
– Set weekly goals (or monthly or overall goals). Again—whatever works!
– Update weekly on What's Up Wednesday (ya know—in theWhat I'm Writing section). We'll share what we've accomplished and set goals for the new week. We can also include snippets or just gush about our stories. J
Don't know about What's Up Wednesday? Check it out here and here. And here.
Since it's two months and there's no minimum word count, I can totally do this!
Next week or so, I'll start drafting Everlast #2 and this Summer intensive is perfect!
What do you think? What are your plans for the Summer? 
Cheers,