Author Spotlight: Renita Pizzitola
Welcome to the Author Spotlight, Renita Pizzitola!
Nicknames: Reni
Where do you live: Texas
Your favorite dessert: Ice Cream
Your favorite TV series: I don't watch much TV (I know I'm weird)
Last book you read: Flawed by Kate Avelynn
Last movie you watched: Rise of the Guardians (with my kiddos)
Last song (or album) you bought: Pink Blow Me (One Last Kiss)
A book/series you could read over and over again: Anything by Richelle Mead
Coke or pepsi? Coke Zero
Day or night? Night
Pen or pencil? Pen
Summer or winter? Winter
Cat or dog? Dog
Tea or coffee? Coffee!! ← results from too much coffee
Plotter or pantser?  Both but mostly pantser
When did you first realize you wanted to be a writer? I think I've known my whole life, but by high school it was definitely my dream.
What are you working on now? Besides a mountain of Gilded edits, a new adult contemporary romance.
If you decided not to be a writer, what would your other dream job be? Why? Writing full time would be my dream job, but I do love my other job as a preschool teacher. Not many people get paid to finger paint! :)
What is the scariest thing you've ever done in your life? It may not be the scariest but right now I'd say the release of my debut novel terrified me. I had this overwhelming fear no one would like it.
Who is the one person that has singlehandedly inspired you the most in your life? My Dad. He encouraged me to pursue writing and without him I probably wouldn't be published.
What is one talent that you're hopeless at, but you wish you had? I wish I could paint (not finger painting, I rock at that) like real easel and paint kind of painting.
What is one trait or physical characteristic that you are proud of/love about yourself? Hmm… My sense of humor, I guess.
Do you have any suggestions for aspiring writers? Don't be scared to ask question. Learn everything you can about writing. You have an amazing story to tell, don't let it get overlooked because of writing errors.
Author Bio: 
Renita Pizzitola writes Paranormal Romance and Urban Fantasy. An avid reader herself, she has always enjoyed stories with witty humor, romance, and fascinating characters. Renita lives in Texas with her husband and two children. When not writing, she enjoys reading everything she can get her hands on, drinking copious amounts of coffee, and playing referee to her two typically adorable children.
website | twitter | facebook | blog | goodreads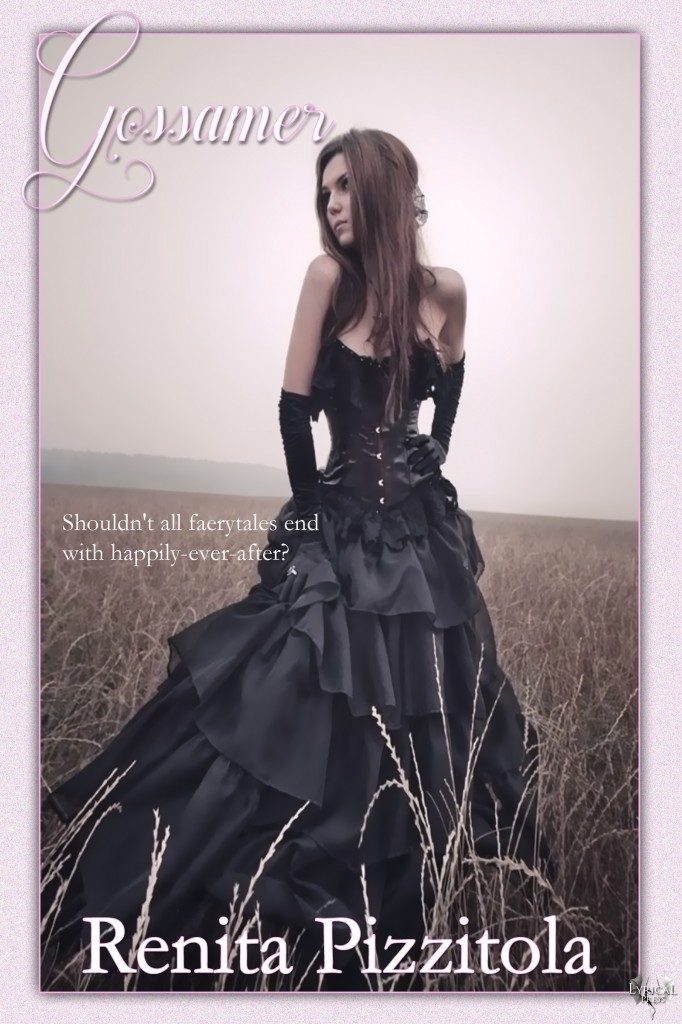 Title: Gossamer
Author: Renita Pizzitola
Genre: Young Adult/Paranormal/Romance
Publisher: Lyrical Press
Release Date: October 8, 2012
Shouldn't all faerytales end with happily-ever-after?
Kyla Ashbury is nearing her eighteenth birthday when a mysterious boy appears at school. Her instant attraction to him inexplicably awakens something inside her and she discovers her true identity.
Now, armed with the knowledge of her past, she is forced to leave behind the life she has always known for a new one filled with temptation, faery charm and magic, and a future she wasn't prepared for.
Kyla is left with a difficult decision…but no matter which path she chooses, someone will get hurt.
Amazon | Barnes and Noble | iBooks | Lyrical Press | Goodreads
Title: Dream On
Author: Renita Pizzitola
Genre: Urban Fantasy Romance
Publisher: Lyrical Press
Release Date: March 4, 2013
Her quest begins when she closes her eyes.
Emory Bennett owns a lucrative dreamwalking business. Trained in weaponry and Muay Thai, she spends her nights entering the dream realm resolving her clients' nightmares, whatever they might be: bad guys, scary beasts, or the classic forgot-to-wear-my-pants nightmare. Her jobs get complicated when a gorgeous man keeps appearing requesting her help.
Grayson, a fellow dreamwalker, is stuck in the dream realm while a stranger inhabits his body. He needs Emory's assistance in the waking realm, which he can't visit if he can't get back into his body.
Once Emory is convinced Grayson's not a figment of her imagination, they concoct a plan to lure the body snatcher out. But as Emory begins to fall for Grayson, the line blurs between him and the stranger who inhabits his body. She must keep it together to get close enough to discover his secrets, or divide her very soul if she can't bring the man she loves back.
CONTENT WARNING: Strong language
Add it on Goodreads
Cheers,