A Day in the Life: Bethany Lopez
Miss Dawn Pendleton came up with a cool Q&A for authors. She posts them once a week on her blog and I'm taking part on it. I'll be posting the Q&A here every Saturday.
Today is Bethany Lopez's turn!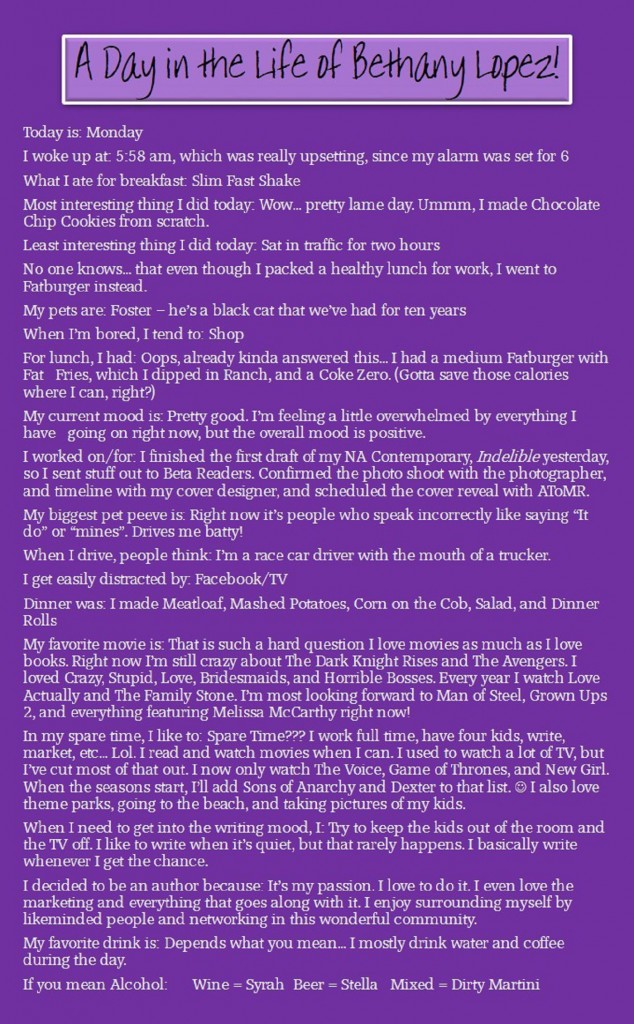 Bethany Lopez was born in Detroit, Michigan, and grew up in Michigan and San Antonio, Texas. She went to High School at Dearborn High, in Dearborn, Michigan, which is where she has set her Young Adult series. She is married and has a blended family with five children. She is currently serving in the United States Air Force as a Recruiter in Los Angeles, California. She has always loved to read and write and has seen her dream realized by independently publishing her novels through Amazon, Barnes & Noble, and Smashwords.
Follow Bethany:
Goodreads – http://www.goodreads.com/author/show/5021061.Bethany_Lopez
Amazon – http://www.amazon.com/-/e/B0056NCP1S
IAN – http://www.independentauthornetwork.com/bethany-lopez.html
Webpage – www.bethanylopez.blogspot.com
Twitter – https://twitter.com/#!/BethanyLopez2
Facebook – http://on.fb.me/LypEaO
Pinterest – http://pinterest.com/bethanylopez2/
Cheers,