Monthly Archives:
March 2013
I promised an excerpt of Destiny Gift once the book reached 400 adds on Goodreads. That happened yesterday and I was going to post the excerpt today, but, since I have some other news to share, I'll post Destiny Gift's excerpt tomorrow!
…………………………………………………………………………
I just found out the release date of His Allure, Her Passion – it's March 20th. Because of that, I'm extending the rafflecopter giveaway until March 22nd (scroll down to enter!).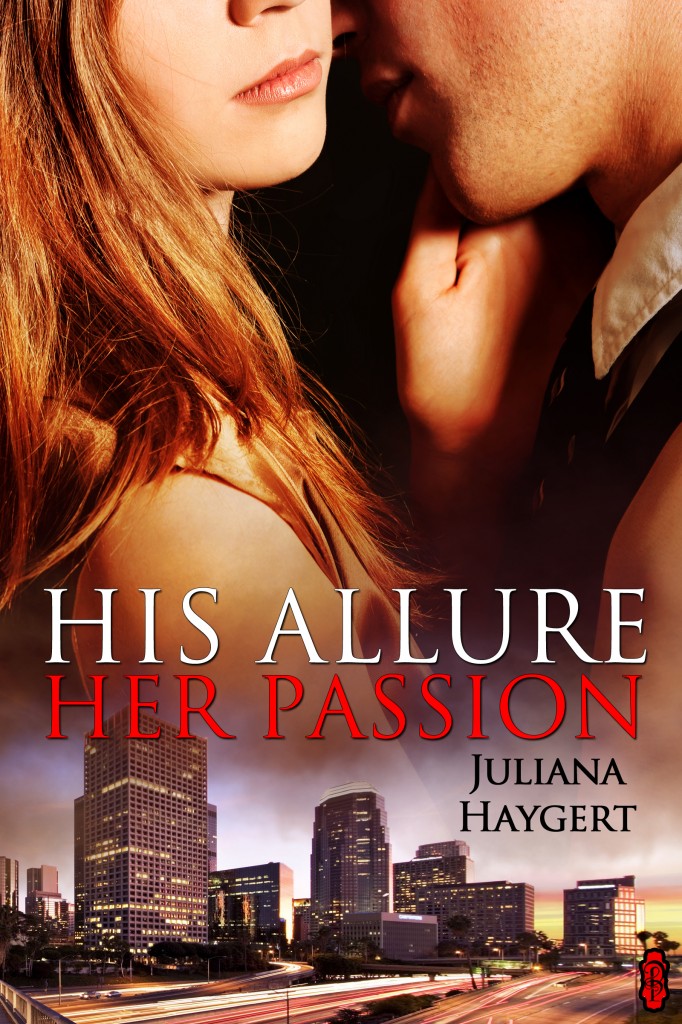 His Allure, Her Passion by Juliana Haygert
Genre: New Adult Contemporary Romance
Word Count: 30,000
In his father's eyes, Dylan Deveraux is just a playboy spending the family fortune on prostitutes, alcohol, and fast cars. And it isn't even with the cars his father produces. Because of that, his father forbids his presence at the ball that will mark the launch of the US plant of his company, strategically scheduled on Valentine's Day.
Hayley Allen is a failing model with the worse luck in the world. She always ends up in the hands of cruel designers and photographers. At least, that's what she tells herself. Better than admit having a weak nervous system that always reacted during her gigs. Desperate, she would do anything to help her career.
Dylan shows up at her door, wasted as usual. Friends for a long time, Hayley is the only one able to put up with Dylan's bullshit, and he appreciates that, but not the way her heart wants.
Even though he doesn't believe in Valentine's Day, Dylan has an idea for his father's ball. When he suggests a deal to Hayley, a deal that could finally put her in the spotlight of success and help him impress his father, she doesn't hesitate. Even if it means hurting her heart a little more.
EXCERPT:
Dylan kissed Hayley, his lips moving slowly at first, afraid of getting her madder than she already was, afraid of falling under her spell more than he already had. But her scent burnt his nostrils and her sweet taste teased his mouth, and he lost it. His need grew, and he increased the speed and pressure of the kiss. Startling him, she matched his new rhythm, her soft lips moving along with his, her nails scratching the back of his shoulder, sending shivers down his spine, shaking his core. Wanting more of her, needing more of her, he slid his hands up her bare back, rubbed her silky skin, glued himself to her. He loved her skin on his, her warmth mingled with his.
Dylan could have kissed her forever, and he would have, weren't it for Dorant.
"Perfect," the photographer said, destroying the moment. "And that's a wrap. We're done here, people."
The kiss slowed, their hands drew back, and finally Hayley pulled her head back, breaking the kiss, her wide eyes on his.
Damn, he missed her lips already.
"Hayley, I-"
She walked away without hearing him. Perhaps, it was for the best, since he wasn't sure what to say. He felt he needed to say something, to fix them, to fix their relationship.
Hayley, on the other hand, didn't seem eager to fix anything.
GIVEAWAY:
Hey, book bloggers, I have the pdf galley, in case you're interested in reading and reviewing His Allure, Her Passion!
Cheers,
Violet Dawn (Violet Night Trilogy, #2)—Release Date April 1st, 2013 from Crescent Moon Press
In the darkest place, the Light shines brightest.
Emma's love saved Jake from life as a vampire. But their happily ever after is threatened by a savage Vamp seeking retribution for destroying the Avenos Trinity of Evil.
A mysterious stranger enters the mix, coinciding with the first Vamp attack in months. Emma's new friendship, and the suspicion and deceit surrounding it, further drives a wedge between her and Jake.
To complicate things, Emma is bitten by a Vamp with abilities no one has ever seen before, and that bite has left its mark.
A mark that might tear Jake and Emma apart forever…
Add it on Goodreads!
What people are already saying about Violet Dawn:
"Fast-paced, action-packed, Violet Dawn is basically everything you'd want from a vampire hunter novel and then some. Emma has kick-ass written all over her." ~Kate Evangelista, author of Taste
"Rush knocked this sequel out of the park." ~Carrie Butler, author of Strength
~~~
Bio:
Driven to write, Lynn Rush often sees her characters by closing her eyes watching their story unfold in her mind. Lynn Rush is a pen name that is a combination of two sources – Lynn, the first name of her mother-in-law, who passed away and Rush – since the author is a former inline speed skater and mountain biker. All of Rush's books are dedicated to Lynn, her namesake, and a portion of the proceeds benefits cancer research and awareness.
 Website | Facebook | Twitter | Pinterest | Newsletter
Cheers,