Daily Archives:
January 12, 2013
Welcome to the Author Spotlight, Joanne Wadsworth
Nicknames: Jo. Yeah, that's short and sweet.
Where do you live: New Zealand. And just an hour from where The Hobbit movie's village is located.
Your favorite dessert: Death by Chocolate–and I have not expired yet.
Your favorite TV series: The Vampire Diaries.
Last book you read: Gossamer by Renita Pizzitola
Last movie you watched: Breaking Dawn Part Two. It was fabulous.
Last song (or album) you bought: Red by Taylor Swift.
A book/series you could read over and over again: Oh yeah, anything by Nalini Singh. I love her Guild Hunter and Psy-Changeling series. Plus, she's a New Zealand author. Gotta love that.
Coke or pepsi? Coke.
Day or night? Day.
Pen or pencil? Pen.
Summer or winter? Summer. New Zealand has the best summers ever.
Cat or dog? Dog. My puppy would tear my leg off if I said cat.
Tea or coffee? Can I have a hot chocolate?
Plotter or pantser? I'm a little of both. I plot, then my young adult characters take over as I'm writing their story. They're young, and have a mind of their own, so I just go with it.
When did you first realize you wanted to be a writer? In February 2009. Young adult books like Twilight were taking off, and this genre just clicked into place for me. I sat down back then and drew up a massive cast of heroes and heroines and edgy villains. Now I'm matching them all up and having a ton of fun with my YA fantasy romance series.
What are you working on now? Three projects at once. Book two in my YA series titled WARRIOR is going through content edits with Lyrical Press, NY–I have a release date of 4th November 2013 for this. I've also submitted a romantic suspense and all fingers and toes are crossed as I wait to hear back. While I do, I've begun book three in the YA series titled ENCHANTER. It's all go for 2013–Book one PROTECTOR has just released. I'm loving it.
If you decided not to be a writer, what would your other dream job be? Why? A hot pool tester. Yeah, I'm not sure this is even a job? But I love relaxing in a hot pool, so I'd definitely be the girl to call to test them out. J Okay, you did say a dream job!
What is the scariest thing you've ever done in your life? Going through labor. It was my proudest/most-painful moment, too. Of course then I forgot how scary it was, and tackled it three more times.
Who is the one person that has singlehandedly inspired you the most in your life? My mother. She's compassionate, caring and never says no to anyone. I've heard it said a child's greatest role model is their mother. That's very true for me.
What is one talent that you're hopeless at, but you wish you had? Snorkeling. I love swimming with my hubby and kids, but I can't snorkel. My kids can, and I'm sooo jealous. I always get a mouthful of seawater every time I try.
What is one trait or physical characteristic that you are proud of/love about yourself? I'd say my fingers and all because of their phenomenal typing speed. When I test myself, it's around 75-80 words per minute. That's wicked fast–and I've never chipped one of my long fingernails in the process. J
Do you have any suggestions for aspiring writers? Write because it's your passion, and never stop. Your writing will improve the harder you work at your craft.
About the Author: Reading romance books captivated Joanne Wadsworth as a teenager, particularly when she tucked herself into bed at night and continued to dream those stories as she slept. She'd visualize the direction, taking the hero and heroine on an adventure unparalleled to what she'd read. Today she is devoted to writing romance, bringing her imagination to life within the lines of young adult, and thrilling romantic suspense.
Born in New Zealand, Joanne works both as a writer and a financial controller, all while keeping up with her four energetic children and dreamy husband.
Website and Blog / Twitter / Facebook Fan Page / Goodreads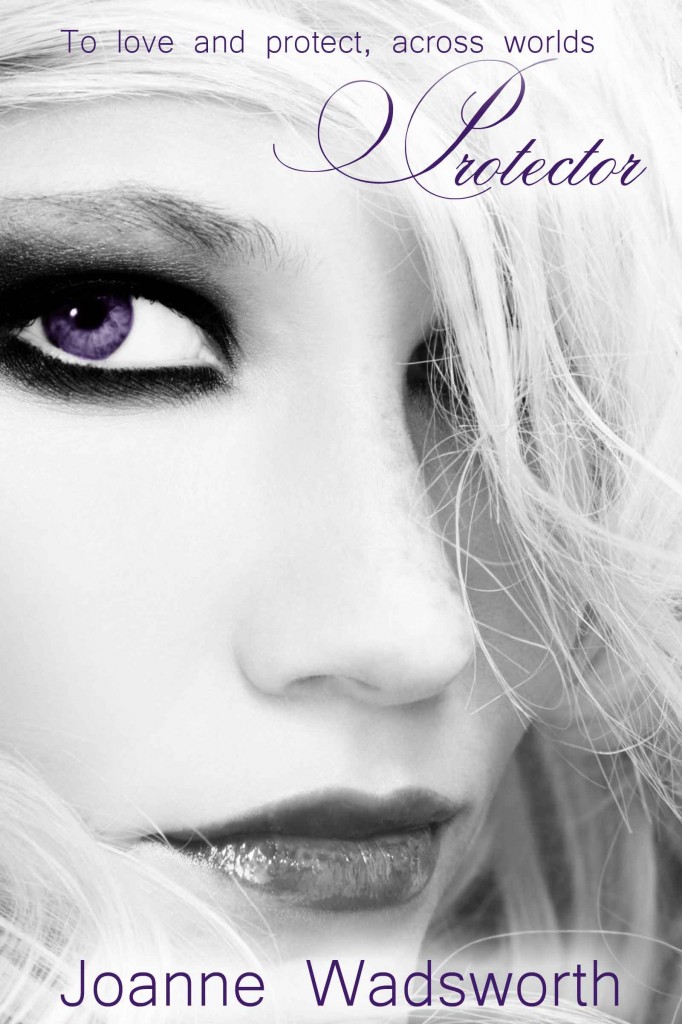 To love and protect…across worlds.
Eighteen-year-old Faith Stryker is prepared to leap out into the unknown world beyond her home shores of New Zealand to experience life. Only she never expected to encounter Magio, a planet with two warring countries, where its people reach adulthood at eighteen by coming into their strength and prophetic abilities. Only after Faith discovers she's a Halfling–thanks to her warrior father she's never met–does her own skill of forethought develop.
Peacio's Prince Davio Loveria is sent to the young Faith Stryker by his grandfather, but not all goes as planned. Davio discovers Faith isn't just a Halfling, she's also his soul-bound mate–an intense relationship he cannot, nor will not, give up.
With two wars now waging…one of land and the other of the heart…can the young lovers find their place in the world?
Amazon Kindle / B&N Nook / iTunes / Lyrical Press / Kobo.
Cheers,