RTW: Are you NaNoWriMoing?
Road Trip Wednesday is a "Blog Carnival," where YA Highway's contributors post a weekly writing- or reading-related question that begs to be answered. In the comments, you can hop from destination to destination and get everybody's unique take on the topic.
This week's topic:
Are you doing NaNoWriMo, or have you ever? Does having a deadline inspire you?
I was going to write a post about NaNo but when I saw RTW was going to ask about it, I decided to do 2 in 1 and post them together ;)
I won NaNo last year with a story I like very much (called Gypsy Heart) but it still needs some (= a lot) revision and fixing ;)
I *think* I'll participate of NaNoWriMo this year. It'll depend on how my edits are going and if I want to stop the story I just started. OR I'll be a rebel and finish the manuscript, writing the last 50k words during NaNo. I do like the energy that fills the air around NaNo and the buzz of everyone talking about it. And, this year I'm here in the US again, which means there's a local group that meets for NaNo at least 4 times a week! Which is exciting! I'm gonna go on the kick-off party on Oct 27th and I hope to get along with the group to keep going on the meetings. Eeeep!
As for deadlines, I love them. I wish there was someone by my side with a whip all day long telling me that the damn book won't write itself, and punishing me when the daily word count isn't met. I'm serious. I always try to impose deadlines to myself. I have a white board beside my desk where I schedule when to start, when to finish, when to edit, when to plot, etc. But it's not the same. I do wish for the whip and the big, nasty ogre telling me: BIC HOK!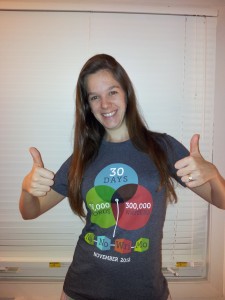 Me in my NaNoWriMo 2012 t-shirt
Oh, my NaNoWriMo profile: Juliana_Haygert. Add me!
Are you doing NaNo this year? Do you like deadlines?
Also, leave your NaNo profile in the comments so we can chase each other down ;)
Cheers,