The Terrifying First Blank Page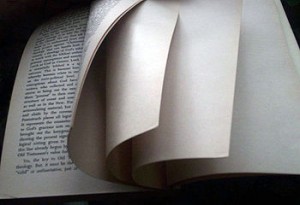 I started a new story last week.
Each time I start a new story, with that first blank page staring at me with its terrifying brightness (laptop screen!), I feel like I can't do it. I can't write anymore.
How do I start? What if my story is lame? What if my first pages are trash? What if my characters are not intriguing and relatable?
And the possibilities? Gosh, it's endless. You can right ANYTHING about ANYTHING! For example, you could write about a polar bear who lives in a suburban house in the middle of humans–and that would be normal in your story. And he has a porcupine girlfriend who is a socialite and hate animals. The polar bear could love to cruise in his convertible and do a little magic in which he makes coke bottles appear (coke ads?). Then, a comet could crash right in his backyard and little aliens could come out of it. You see? ANY crazy shit could happen. It's your imagination, after all …
Anyway, back to the topic …
Then, I think my writing is not that wonderful yet, that I should take more workshops, watch more webminars, read more books about writing. If I surrender to that, I won't ever write. There are too many books about writing out there, too many websites giving tips and promising to make you a better writer … If I let myself believe I'm not ready and postpone my writing because I think it's not ready and I need to study before actually writing, then it sure won't ever be.
My writing will only get better once I start writing. To become a better writer, I must write, write, write, read, read, read, write, write, write and so on. And, even when my manuscript is ready and good to be published, I won't be done. My writing, like any other writer's, will keep evolving and getting better forever.
Did you ever notice how the Harry Potter books get thicker and thicker and thicker? It's not only the complexity of the plot. It's the fact that J.K. Rowling got better at writing each time she wrote her books. And it's easy to notice her writing improving from book one to book two to book three … At least I noticed it (perhaps only one with a writer's mind would notice that?).
So, after a few moments of panicking while staring at the first blank page of a new project, I shake it off and just write … whatever scene comes to mind, or, if I have a set outline, I try to follow that … later, I come back and tweak the beginning since it won't be terrifying anymore.
And, once I get started and move past the second page, I relax and my writing comes out naturally …
… till the next first blank page!
Cheers,