Model Monday #07: Sports
I have a few ideas for books where sports are important for the plot and setting. So, sports inspire me, right? Right.
Even though I was a ballerina all my life, my parents and my brother have been tennis players all their lives (I played for a few years, but soon realized I liked dancing much more). Tennis was such a big thing in our daily basis that we used to have a tennis court in our house and my father hired the best trainers to come to live with us for a year or so, to train my brother. Unfortunately, for a sudden twist of life, my brother didn't become a professional tennis player, but now, at 32, he still plays and still win tournaments.
In high school, I played handball for 2 years.
My cousin practiced equestrianism and polo.
My husband practiced judo.
All the males in my family love soccer and play as often as they can.
When I come up with a character, I always give him/her a hobby … dance, singing, playing an instrument, a sport, painting, whatever … they don't need to be the best in it, I just can't imagine not having a hobby since I had many while growing up. And I guess having a hobby can give depth to a character, especially if I can weave the hobby with personality, or an issue or a twist on the plot.
Right now, I'm working on a tennis player and a polo player ;)
Tell me, didn't you ever get emotional watching movies about sports? Be it comedy, romance, drama …
Some examples:
Jerry Maguire
Driven
Invincible
A League of Their Own
Rocky
The Replacements
Wimbledon
Match Point
The Fighter
The Blind Side
Overcoming barriers, fighting inner turmoils, finding peace within, falling in love … What else could you ask for a good plot?
*happy sigh*
Eye-candy time!!
As I couldn't go without, here as some hotties from the sports world ;)
Lleyton Hewitt, Australian – Tennis
Tom Brady, American – American Football
David Beckham, English – Soccer
Kelly Slater, American – Surfing
Cesar Cielo, Brazilian – Swimming
José Théodore, French Canadian – Ice Hockey
Fredrik Ljungberg, Swedish – Soccer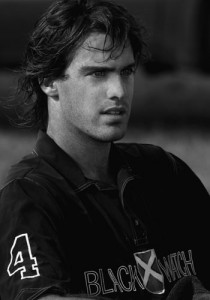 Facundo Pieres, Argentine – Polo
Yummy, right?
Aren't you inspired now? LOL
Cheers,