Model Monday #01: Polo
In trying to change and improve my blog, I came up with a new kind of post I'll publish every Monday.
It's called Model Monday.
On Model  Mondays, I'll reveal things that inspire me, that inspire my writing. You'll see anime, songs, real people, books, games, sentences, etc …
Today, it's about POLO.
When I first saw the music video for Radar by Britney Spears I immediately fell in love with it.
My iPod marked I listened to this song more than 400 times in 7 days. Yeah, kinda of crazy, I know, but I couldn't get enough.
An idea for a book surged up while listened to the song (over a year ago).
Of course, the idea was around polo.
While researching about polo and learning how to play polo, I found this guy:
His name is Facundo Pieres, 25 years old, and he is a famous polo player.
Let's forget he dates a pretty model/actress and learn more about him.
Currently, Facundo is ranked number 4 in the World Polo Tour (he reached first a couple of years ago). His older brother, Gonzalo Pieres Jr, almost as cute as him, is the current number 1.
And that's a cool fact: Facundo plays with his family—two brothers and one cousin. And his father, Gonzalo Pieres Sn, a famous retired polo player, is their coach.
They own a ranch nearby Buenos Aires, Argentina, where they train and breed horses for the game. When it's time for big Cups in Europe or US, they are invite to integrate other teams, which helps in their ranking.
Neat right?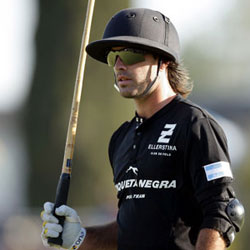 Isn't he hot even in uniform? *fawns*
If you want more pictures from him, you can check his Facebook fan page.
Facundo was promoted to handicap 10 at age 19, being the youngest 10-goal poloplayer.
From Wikipedia, here is what a polo handicap is:
A polo handicap is a system created by Henry Lloyd Herbert, first president of the United States Polo Association, at the founding of the USPA in 1890 so that teams could be more evenly matched when assessing players of varying ability. The players are rated on a scale from minus 2 to 10. Minus 2 indicates a novice player, while the player rated at 10 goals denotes the highest handicap possible. So difficult is it to attain a 10-goal handicap that there are fewer than a dozen in the world today, and about two-thirds of all players handicapped are rated at 2 goals or less. Handicaps of 5 goals or above generally belong to professional players. It is not (nor has ever been) an estimate of the number of goals a player might score in a game, but rather of the player's worth to his or her team. It is an overall rating of a player's horsemanship, team play, knowledge of the game, strategy and horses.
Those facts (and a few others) gave me a hero for my story.
It's awesome. The guy is awesome. Polo is awesome.
Now I just need to find time to finish this story ;)
Does this inspire you too?